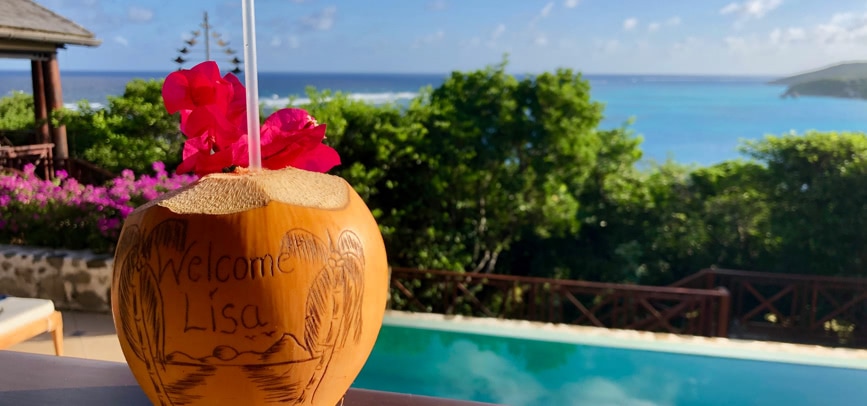 An Island Excursion with a Difference - a Visit to the Grenadines
Barbados is our second home and we are privileged to spend extended periods of time on the island. When we get the chance, we love to take little excursions - perhaps a catamaran cruise to swim with the turtles or a trip over to the east coast to enjoy the cooling breezes and the more rugged landscape. But we recently took an altogether more exciting excursion as we enjoyed a three night visit to the island of Canouan in The Grenadines.

---
Canouan lies around 110 miles west of Barbados and is a verdant, hilly island of just 5 square miles (Barbados is far larger at 166 square miles). It is surrounded by wonderful turquoise waters and has a large active coral reef. Over one third of the island is occupied by the Canouan Estate which offers a small collection of luxury villas and the Pink Sands Mandarin Oriental Hotel which offers sumptuous accommodation and a range of fine dining restaurants. The Jim Fazio designed 18-hole championship golf course (once, but no longer, operated by a Mr D Trump), is set on dramatic sloping hills and along the ocean edge.

---
Our own stay was at a luxurious villa named Canoten which is owned by one of our main partners in Barbados. It is a wonderful 4-bedroom property with extensive coastal views and lovely pool and sun deck. Guests at the villa have use of two golf carts for running to and from the nearby resort restaurants, the stunning golf course and the nearby beaches. Shell Beach is just a few minutes drive away and is a quiet sheltered beach with sun loungers, a little bar and the friendliest service.

---
Although we only stayed for 3 nights, we thoroughly enjoyed our quiet break. We relaxed at the villa, relaxed on the beach and relaxed by the main Pink Sands hotel pool. But we also enjoyed a round of golf and enjoyed excellent meals - particularly the beach barbecue prepared by the hotel on our first night which was truly magical (if jaw-droppingly expensive…)

If you are visiting Barbados for an extended stay or if you are a regular visitor who just fancies a short excursion to experience something a little different, we would certainly recommend a visit to the Grenadines and to Canouan in particular.
---