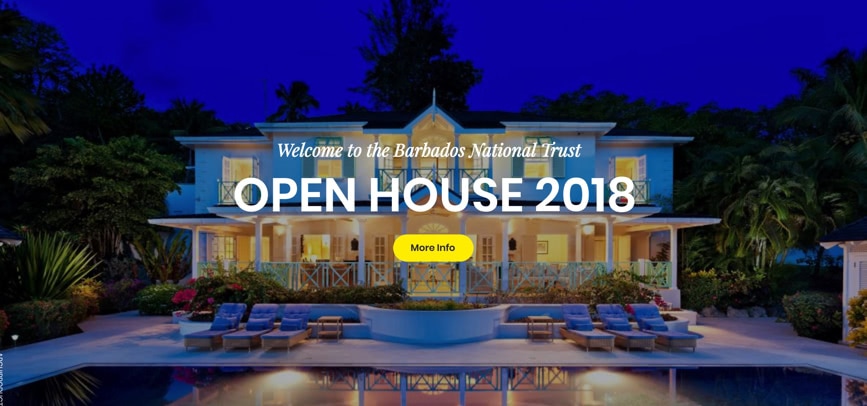 Barbados National Trust - Open House
The Barbados National Trust was founded in 1960 and, in a similar way to its namesake in the UK, works to preserve and protect the natural and artistic heritage of the country and to increase public awareness of Barbados' historic and architectural treasures.
The Trust also runs museums displaying a collection of artefacts owned and made by Barbadians, as well as an education programme, focusing on the island's history. Each year, from January through to March, it operates an Open House programme where properties of significant interest on the island are opened up for the public to visit.
The 2018 Open House programme features 16 properties including Moon Dance at Sandy Lane – one of the nicest villas in the area and one which we are pleased to feature in our selection of Sandy Lane rentals. The Moon Dance Open House took place on 17th January and we were pleased to attend as guests of the owners with whom we get on particularly well.

---
Over 300 people attended on the day and enjoyed tours of the house and the extensive gardens. There were a number of stall-holders offering drinks, snacks and local arts and crafts but many visitors were happy to simply sit in the shade and while away the afternoon in the lovely surroundings.
If you prefer to stay for longer than an afternoon and would rather not share the experience with hundreds of others, Moon Dance is available to rent from £1,500 per night in summer season and comes fully staffed. Catherine, the cook at Moon Dance, has a formidable reputation amongst returning guests and all of the staff go out of their way to make every stay special. Our clients who spent the New Year at Moon Dance commented "The staff were so accommodating; the quality of the house was beyond perfect and everyone felt at home from the word go."

---
The 2018 Open House programme includes two further houses which we feature in our programme. On 7th February 2018 the doors of the fabulous Fustic House open to the public and on 28th February it is the turn of Gardenia. For further details of the Barbados National Trust Open House programme, please visit the Trust's website.
---