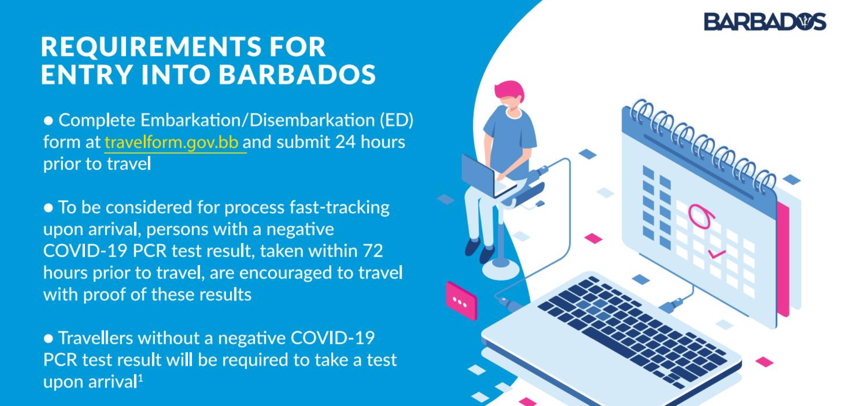 COVID-19 PCR Test Before Arrival in Barbados
Update, 28th September 2020: As Travel Protocols have changed significantly since this blog post was first written, you should no longer rely on information given below but should instead visit the Barbados Government website detailing latest Travel Protocols as the authoritative source of latest information before you travel. For further detail on how this might affect your stay with us, you might be interested to read further information here.
---
The official announcement was made on Friday 26th June that Barbados had no active cases of COVID-19 and was once again open for business with the resumption of commercial flights from mid-July.
Extensive safety protocols remain in place on the island to keep everyone safe and on arrival at the airport in Barbados, all British visitors will be expected to provide evidence of a certified negative COVID-19 PCR test from an accredited laboratory (ISO, CAP, UKAS or equivalent). The test needs to have been carried out no more than 72 hours prior to travel.
There is also be a new online Embarkation/ Disembarkation card (ED card), with personal health questions relating to COVID-19 symptoms, which travellers are required to complete. You are also required to upload a copy of your test result together with the photo page from your passport. The form needs to be completed 24 hours prior to travel to the island. Travellers will receive a bar code via email and on arrival in Barbados, travellers will be required to present evidence of a negative result of a PCR COVID-19 test, and the bar code to clear immigration.
There is useful guidance on the official Barbados Tourism website but we know that many clients have asked us about where we would recommend they obtain a pre-departure test and we have, in turn, asked a number of Barbados officials but without gaining any specific recommendations. We carried out our own brief research and decided to complete a test ahead of an 'assumed' flight departure to see how easy the process is and to share our own experiences here. We hope this helps guide you a little.
Organising the Test before Departure
There are many private clinics now offering 'Fit to Fly' COVID-19 PCR tests so we decided to put one company CityDoc to the test to see how timings might work in practice. CityDoc offer a test either in-person at one of their London clinics or with a home testing kit. The kit costs £125 plus a further £25 for a 'Fit to Fly' certificate. They promise same day despatch of tests if ordered before midday. We ordered at 11am and our test should have been delivered the next day by DPD. In fact, it was the following day before the test was delivered.
The test is accompanied by a form which was pre-completed with a date the sample was taken. This pre-completed date was actually the date the test was ordered, two days prior, so we amended the date to 'today's date' and added the time, ensuring this was within 72 hours of the scheduled arrival of our theoretical flight. This is obviously key – it will be vitally important that the test can be shown to have been taken within 72 hours of travel.

---
The test was sent back in the pre-paid envelope on the same day to The Doctors Laboratory which appears to be UKAS approved as required and test results were received around midday two days later, by email. We received a report from the Doctors Laboratory confirming that COVID-19 was not detected and a letter from CityDoc confirming "you are fit to fly". The report confirmed the date and time the test was collected as we had specified on the form as well as the date the sample was received at the lab and the date and time the report was issued. The 'Fit to Fly' certificate seemed superfluous in our view.

---
The timings worked but were tight. Once received, the Embarkation/ Disembarkation card (ED card) form needs to be completed and the test results uploaded together with the biodata page (the photo page) from your passport. This needs to be sent at least 24 hours before travel to the island so this makes timings tighter.

---
We obviously can't vouch for the timings – we may have been lucky that the results were turned around quickly enough – we just don't know. One thing that has been mentioned is that it may be better not to fly on a Monday or Tuesday as processing of tests over the weekend may take longer – that sounds like a reasonable premise but we can't be sure it will make a difference.
We understand from one of our clients who recently stayed with us that they made arrangements with Chelsea Bridge Clinic who guarantee 72 hour results, are accredited and include certificates. They apparently charge £169 for the first test and £158 for any additional tests, plus any courier fees. They kindly dropped us an email after they arrived to let us know how they got on and said:
'In terms of the covid tests, we would highly recommend Chelsea Bridge Clinic in London. Their communication was second to none, they called us Thursday to advise not to test until the Saturday morning. We saw a number of people at the airport who had paid for their tests, and were turned away to retake them. They had had the labs run the tests Saturday but taken their swabs Friday, initially this is what we were advised to do but guidelines changed last minute hence why we took them on the Saturday. We'd hate for others to pay out and be caught out last minute.'
We have also been in discussions with The Private GP Clinic in Sevenoaks who have promised a very high level of service to our clients. They tell us that they are currently processing 500+ tests per week for travellers and for Barbados, in particular, they are managing to meet the tight deadlines to get results back within 48 hours from the lab so that they can be uploaded in advance of outbound travel.
Practice Manager, Richard Oladi, told us 'We have had several meetings with the senior management of the laboratory, and they have been working night and day to get our results turned around efficiently. I have also appointed a dedicated 'travel concierge' contact at the Practice who handles the process from A-Z, tracks the results and chases the lab for an urgent turnaround'.
Whist we can't make specific guarantees ourselves, we do suggest discussing your requirements with Richard or a member of his team. We have agreed a lower cost for tests for our own clients and we will pass on further details with your travel documents, ahead of your stay.
On 24th August Virgin Atlantic announced that they were recommending testing companies who could turn tests around quickly and reliably. The first of these companies is Screen4 who offer tests for £95 and also offer a fast track service with prices on request.
If you decide not to arrange a test ahead of departure, or if your results don't come through in time, all is not lost. The Barbados Government are assuming that many people will arrive without a test and they have made arrangements for testing at the airport and/or at local hotels after you arrive. Again, further details are on the official Barbados Tourism website.

---
We must stress that we are not making any recommendations concerning PCR testing – this is most definitely not an area of expertise. If you are not travelling to the island for a while, we strongly advise that you wait until nearer the time of travel when requirements will become much clearer. If you are travelling imminently, we hope you find this article useful but please do not rely on this information but make your own enquiries to satisfy yourselves of the appropriateness of the arrangements you are making.

---