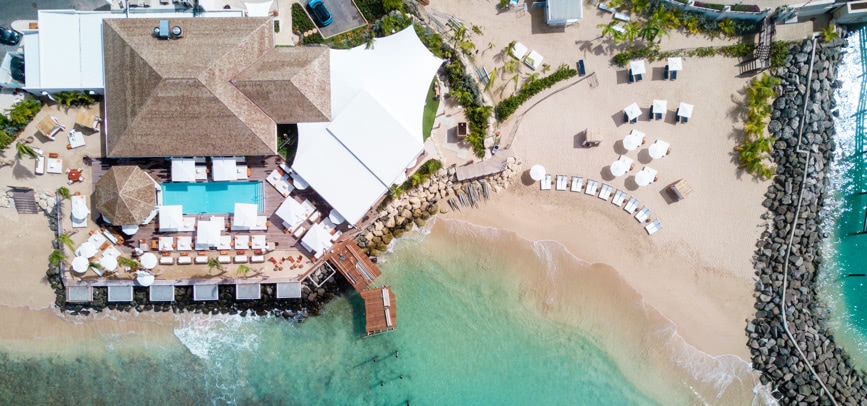 Your Complimentary Nikki Beach Barbados Day Pass
With its glamorous oceanfront location by Port Ferdinand, just to the north of Speightstown, Nikki Beach Barbados has established itself over recent years as an island hotspot for the young (and young at heart).

Famous for its evening party atmosphere, but also for its day time beach club, and creative weekend events, Nikki Beach Barbados is a wonderful place to indulge but also to relax.

---
As we are always focussed on helping our clients get the most from their time on the island, we've been working with our friends at Nikki Beach Barbados to create a unique benefit for all of our guests.
Today we're delighted to introduce the complimentary Nikki Beach Weekday Pass for all Hammerton Barbados guests. This exclusive Pass will be sent to you together with your travel documents ahead of your stay and entitles you to free access to, and use of, Nikki Beach Barbados.

---
Weekday Passes are valid from Monday to Friday and entitle you and your party to free use of sun loungers on the beach, umbrellas, towels, and outdoor showers. Your pass can be reused as many times as you like during your stay with our compliments.
For opening dates please visit the Nikki Beach Barbados website, and for further details along with terms and conditions please see below.
We hope you have a wonderful stay with us and a great time at Nikki Beach Barbados.

---
Terms and Conditions:
Benefits




Access to Nikki Beach Barbados including the ocean front beach
Beach Sun Lounger and Umbrella – December through November*
Luxury Poolside Sunbed and Umbrella – March through November*
Use of Towels and Outdoor Showers
Pool Access for guests aged 18 and over
Complimentary Parking
Use of your Day Pass

Please present your pass upon arrival at Nikki Beach. Advance reservations are recommended
Your Day Pass is only valid on week days (Monday through Friday) and excludes Saturdays and Sundays
You may use your day pass as many times as you wish during the duration of your stay with Hammerton Barbados
The Day Pass is valid for the total number of guests on your reservation.
Limitations
Free access and use of facilities is limited to Mondays, Tuesdays, Wednesdays, Thursdays, and Fridays.
*
Nikki Beach is typically closed between September and October, access will not be available during that time.
Beach Sun Loungers are assigned 1 per guest, whereas each Luxury Poolside Sunbed is shared by 4 guests.
Admission may be refused for any reason in line with the policies of Nikki Beach including inappropriate behaviour or attire.
On occasion Nikki Beach may host private functions or be closed for other reasons, to avoid disappointment please contact Nikki Beach prior to arrival
The Nikki Beach Day Pass is not transferrable, has no monetary value and may be discontinued or suspended without notice or compensation.

---