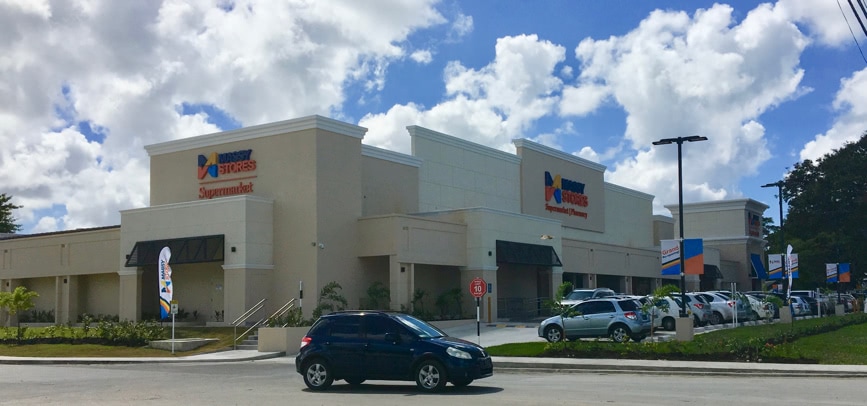 A Bigger, Better Supermarket in Holetown
Yesterday, 17th November 2017, after 11 months of work and an estimated spend of BDS$ 45 million, the new Massy supermarket opened in Holetown on the site of the old Sunset Crest store. We are in Barbados at the moment and (along with hundreds of others) were soon through the doors yesterday, curious to take a look inside and see where we would be doing most of our food shopping on island over the next few years.
We used to enjoy our regular visits to the Super Centre and the other stores in the West Coast Mall but time moves on and there's no denying, the new supermarket is a real step up from what went before.

---
Everything is very well presented and and plentiful and there is a very wide range of fresh, frozen and convenience foods as well as a good wine section and even a small fresh fish counter. I can't help feeling that they are still missing a trick with the fresh fish - it still frustrates me that UK supermarkets are so far behind their French counterparts when it comes to fish and it would have been nice to see the fish as well presented as the fresh meat but perhaps that will come with time...

---
The staff were clearly fresh and fired up on their first day but did seem unusually helpful and obliging - even the ladies on the tills who perhaps don't always have the sunniest of dispositions! There are apparently 190 staff employed at the new store which is a 36% increase on the number previously employed.

---
Parking is plentiful and the car park is also well positioned on the southern side of the supermarket, encouraging shoppers to visit the Chattel Village as well. All-in-all, we were very impressed and are looking forward to our regular supermarket visits when we are in Barbados.

---