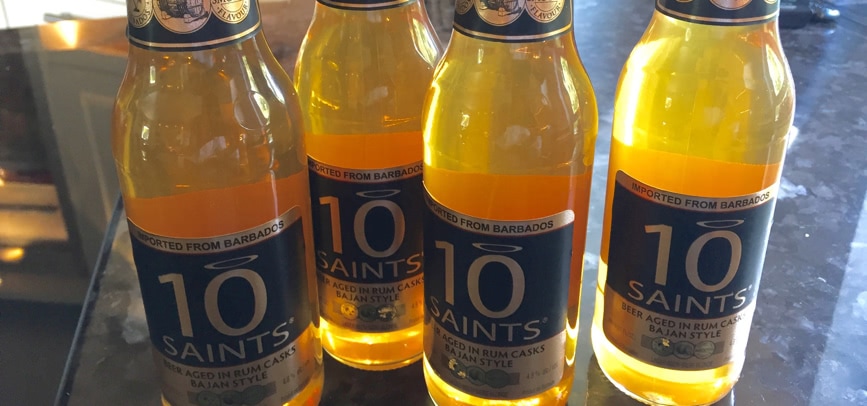 Banks vs. 10 Saints – Ice-Cold Beers to Refresh in Barbados
We are sitting on the beach outside Ju-Ju's bar on Alleynes Bay and it's approaching lunchtime. The sky is blue, the sun is hot and the light breeze is doing little to cool us down. We have kept cool all morning by regularly switching between reading in the shade and floating in the sea but it's about time for some proper refreshment.
At times like this, only an ice-cold beer will do and Barbados has one island-brewed beer that you will find everywhere: Banks. The Banks Brewery opened in St Michael in 1961, supported by small investments by over 3,000 Barbadians at the time. Today it is known as 'the beer of Barbados' and it certainly has mass distribution across the island. 
Banks is a light, 4.7% pilsner style lager which is perfectly suited to the warm Barbados climate and which has to be drunk cold. A bottle of Banks will set you back BDS$ 5 at most beach bars but four bottles for BDS$10 is quite common where there's more competition around (at Oistins Fish Fry on a Friday evening for example).  

---
But there is an alternative to Banks that you might like to try when sitting at a Barbados beach bar or relaxing by the pool at your villa: 10 Saints. This local micro-brewed beer is uniquely aged for around 90 days in Mount Gay rum oak casks and it has a rather more complex flavour than Banks. It is a light and refreshing lager with a slight sweetness and a definite hint of the oak cask in the background.
10 Saints was first conceived by Glyn Partridge in Speightstown in 2009 and is named after the eleven parishes of Barbados – ten of which are Saints (the eleventh is Christ Church). Today, it is available across the island including at Ju-Ju's bar. I think this time I'll go for the 10 Saints. 
---