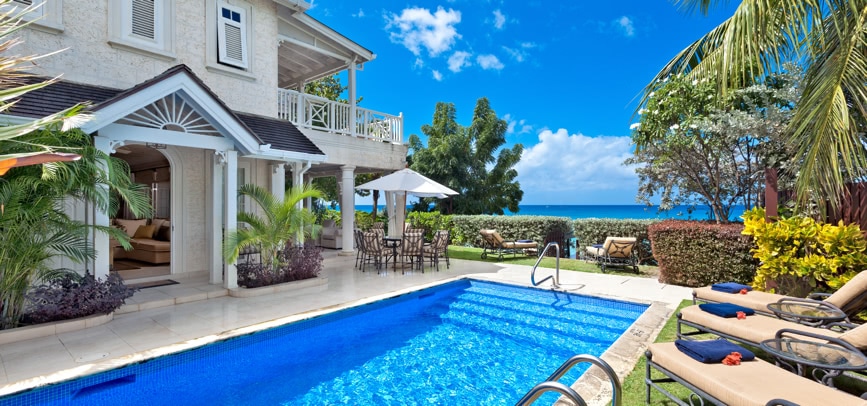 Barbados Villas for Rent - Our Recommendations
Renting a villa in Barbados is one of the most popular ways of staying on the island but the choice of Barbados villa rentals is so extensive that it can become a little bewildering. We hope that our selection of Barbados villas and apartments will be a good starting point – all have been visited by us and have been selected for inclusion in our programme. But you will find that we offer a very wide range of properties from beachfront condos to luxury private villas as we know that party sizes, location preferences and (importantly) budgets differ from one client to the next. You may still need a little help to narrow your search.
The best way to get free and impartial advice is to call or email us – we are always happy to have a chat over the phone and give advice about individual villas or apartments or talk more generally about the pros and cons of staying on different parts of the island. We know Barbados well and have our own apartment at Mullins but we have stayed all along the west coast over the years so can talk from first-hand experience.
In the meantime, we have put together a few pointers which we hope will help you get your ideas together before you book your self-catering stay in Barbados.
When to visit Barbados
With over 3,000 hours of sunshine a year and average daytime high temperatures of around 30ºC, the weather in Barbados is pretty wonderful all-year round. There is more rain in summer from June through to November and humidity increases at this time of year but rain tends to come in heavy downpours that quickly move on and these are often very localised. The winter is the most popular time to visit the island as the heat and humidity is more comfortable – but more importantly, the contrast with the weather back home is more welcome!
If you are looking to rent a villa or apartment in Barbados it is worth bearing in mind that prices vary considerably according to the season with Christmas and New Year commanding the highest prices and the summer season being the cheapest time to stay. Christmas and New Year rentals in Barbados tend to require a minimum 14 night stay and prices can be two or even three times higher than the equivalent summer rate. Although prices are high, this is the busiest time of year for the island and the best villas and condos are often booked a year ahead by returning guests.
The summer season from 15th April to 15th December is the most affordable time to stay in Barbados with prices for 3 bedroom beachfront properties available for under £350 per night and luxurious 4 bedroom properties at Royal Westmoreland available at a similar price.

---
Your reason for visiting Barbados
All our clients visit Barbados to enjoy the great weather and the relaxed island vibe but everyone has slightly different needs from their accommodation depending on their party make up, intended length of stay and budget.
We have many clients who are retirees, looking for one bedroom accommodation at relatively low cost for a long winter stay. Larger properties are popular with extended families looking to spend Christmas together under the Caribbean sun and these are also popular for special birthday and anniversary celebrations. For an annual summer holiday with the children during July and August there are many affordable properties with excellent pools a little back from the beach at Royal Westmoreland for example.
Depending on your reason for visiting the island, you may find the following links a useful starting point as you begin your rental property search:
Villas and apartments ideal for couples in Barbados
Large villas for families and friends in Barbados
Golf resort villas and apartments in Barbados
Villas with private pools in Barbados

---
Where to stay on the west coast of Barbados
The west coast of the island is known as the Platinum coast and a stay here will allow you to get to know the wonderful beaches, towns, restaurants and bars in the parishes of St. James and St. Peter. There is a very wide selection of upscale self-catering accommodation all along the coast from luxury beachfront villas and apartments to ridge-front villas set slightly back from the coast but with wonderful coastal views from their hillside locations. There are a number of very popular gated communities in Barbados with high standards of accommodation too. The most well-known of these is Royal Westmoreland, with private villas and apartment clustered around the golf course but Sugar Hill, a stone's throw from Royal Westmoreland, also offers lovely villas and apartments around a central club house – this time with tennis as the main sporting theme.
Some of the most popular areas with a good choice of villas or apartments to rent include:
Paynes Bay – stretching south from Sandy Lane to the fish market at Derricks, just by the famous Cliff restaurant, Paynes Bay is home to some wonderful luxury apartments and townhouses with unmatched sea views and direct access to the beach. Sun beds are available by day and there is a wide choice of bars and restaurants within walking distance for an evening out. We offer a number of apartments to rent at Old Trees on Paynes Bay which we thoroughly recommend.
Mullins Beach – lying just to the south of Speightstown in the parish of St. Peter, this is a deservedly popular area due to the many splendid villas and apartments with manicured gardens which hug the coast.
Sandy Lane – one of the most prestigious name in Barbados, the Sandy Lane hotel, golf courses and villa estate has a worldwide reputation for style and quality of service. We are delighted to offer a number of exclusive villas on the estate, close to the Sandy Lane beach where many villa owners include use of their private beach cabana.

---
Affordable villa rental in Barbados
Staying right by the beach with a private gate from your garden leading onto the pristine white sands of a Caribbean beach is idyllic but it can come at a price. For many of our clients it is the obvious 'must-have' request but unless pockets are deep, a compromise is often necessary to achieve a balance between affordability and comfort.
There are some simply stunning beachfront rental properties in Barbados for the deep-pocketed including ultra-chic villas Footprints and Seaclusion and for a more traditional taste of old-world Barbados, Leamington Pavilion and Mango Bay will delight – as will many of the other stunning properties designed by Oliver Messel, the famous architect and interior designer.
Set back from the beach a little, the Sandy Lane estate is the most well-known area for those with high-end budgets and properties here are large and imposing. If you plan to travel as a group of friends or as a large family, take a look at these properties as they are often more affordable than you might imagine. All will be fully staffed with cooks or chefs as well as housekeeping staff – this not only makes your stay relaxing for the whole family but it can also save on the expense of eating out. There is nothing better than relaxing with family and friends in your own villa and being served restaurant-quality meals (or even homemade pizza!) in the garden by candlelight.

---
If you are visiting Barbados on a tighter budget, there are many affordable villas and apartments to rent within walking distance of the beach around Mullins Beach and also around Paynes Bay. One very affordable option is the three-bedroom townhouses at Battaleys Mews which are within walking distance of the beach and the popular bar at Mullins and yet cost well under £350 per night in summer season.
Move inland to Royal Westmoreland and value for money improves further. This very impressive 3-bedroom villa at Coconut Grove has a private pool and gardens and access to the Beach Club at Mullins and is priced at under £450 per night in summer.
Remember, the best way to get a good understanding of the rental options available to you in Barbados is to contact us. We are always happy to pass on the benefit of our experience and we will always try to recommend properties to match your individual needs and, of course, budget. We look forward to hearing from you.
---