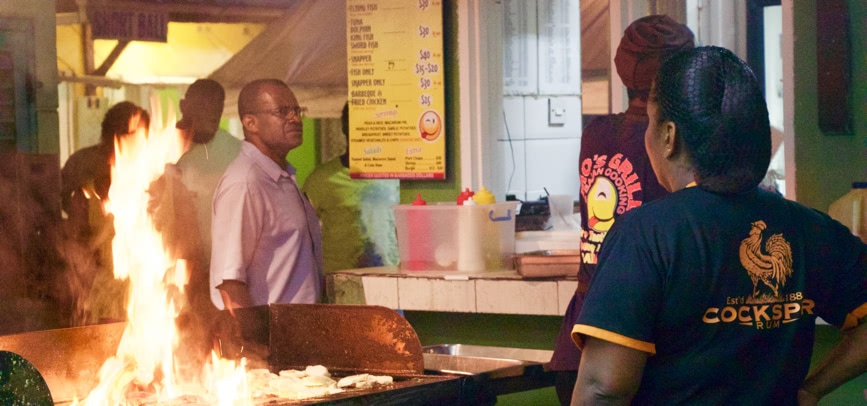 Fish on Fridays at Oistins Barbados
Oistins is a small Barbadian fishing community in Christ Church parish on the south coast of the island (fairly close to the airport). Over the years it has become known for its Fish Friday Fry, a go-to spot in Barbados for brilliant food, loud music and smiling faces.
The Friday Night Fish Fry in Oistins provides a wonderful end-of-the-week opportunity for tourists and locals to socialise (or 'lime') at the bars and informal restaurants which crowd around the huge beachfront fish market. The food here is as fresh as it is inexpensive and wonderful aromas fill the smoky air from scores of makeshift barbecues.
Don't expect fine dining here, but do expect full-on Bajan flavours (on your plastic plate) and expect plenty of laughter and music from competing mega sound systems. Along the beachfront there are a number of craft stalls and a huge central stage attracts local likely lads who happily perform for your pleasure and the hope of some beer money.

---
Where to Eat in Oistins Fish Festival?
If you visit for the first time you may find the choice of eating establishments somewhat bewildering.

We have friends who swear by Uncle George's, but we love Crystals for the most succulent fish and to-die-for macaroni pie.
If you just fancy a Banks and some Bajan fishcakes, Crystals can often oblige but there is a Hot Legendary Fishcakes outlet here too – they don't get much better.

---
Tips for Enjoying the Fish Friday in Barbados
Make sure you arrive early to soak up the atmosphere and be prepared to stay late. Stop by at Lexie's Bar, a small Heineken-branded building open on three sides and with no furniture inside. This usually becomes a dance floor for elegantly dressed locals who defy their often-advancing years and demonstrate their ballroom prowess with the encouragement (and usually involvement) of visitors.
If not dancing the night away, Oistins locals will also be found enjoying the popular Bajan pastime of dominoes. Huddles build around the busy tables at the eastern end of the seafront with the click clack sounds of fiercely contended games compete with the whistle of tree frogs and the boom of sub woofers late into the evening.
A visit to Oistins on a Friday evening is likely to involve a 30 minute ride out from your west coast villa or apartment but we thoroughly recommend it at least once during your stay in Barbados.
---