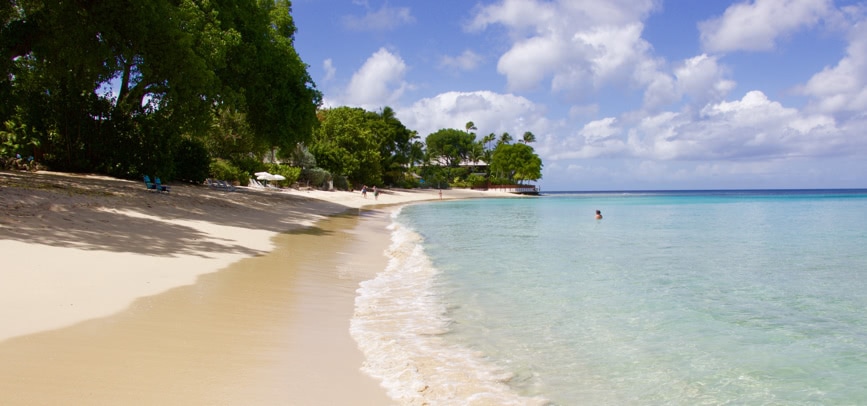 Gibbs Beach, Barbados: a Secluded Spot in the Platinum West Coast
The platinum West Coast of Barbados is famous for its endless stretches of beautiful beaches and sandy coves. This coastline truly is the ideal place to base yourself for the ultimate beach retreat. This is the place to discover the idyllic Gibbs Beach.
Where is Gibbs Beach in Barbados?
Heading north on the West Coast and situated between Holetown and Speightstown you will find the secluded bay of Gibbs Beach. With a number of fine houses overlooking the sweep of the bay, the beach is edged with trees that overhang the fine sands providing dappled shade, particularly in the morning.
How to get to Gibbs Beach?
Gibbs Beach lies a short stroll from its busier sister, Mullins Beach. So if you have had your fill of the waterports and the frenzied beach life that is available here then turn the corner and something very different awaits you.
What to do at Gibbs Beach?
Once you have discovered Gibbs Beach and the peaceful seclusion it brings, you won't want to leave in a hurry. This is the perfect spot to bring your beach chair and a good book to while away a few hours.
There are very few visitors here. There are no beach bars or restaurants in the area.
A catamaran may pass by from time to time and the odd fishing boat may come ashore but finding a peaceful time to visit is not an issue here.

Breakfast Picnic at Gibbs Beach
That said, on a recent visit, the idea of an early morning breakfast on Gibbs Beach came to mind and sounded idyllic. So we hatched a plan. If, like me, you can't resist a freshly baked croissant and tasty pastry then a good place to head is Flindt Patisserie in Holetown. Place your order the day before and collect early the next day ready for your picnic - they are superb!
As another beautiful morning broke, we packed our cool bag with yummy goodies including our pastries, freshly collected from Flindt that morning. And as (for me at least) a proper breakfast is never complete without some cereal, the Weetabix was also packed together with a choice of juices and we headed down to Gibbs Beach.
We were the only ones on the beach as it was early but comfy in our chairs together with breakfast, the morning had started perfectly. The view couldn't have been better, a clear blue sky and the Caribbean Sea lapping on the shore. Before we knew it, it was almost lunchtime.
That's what I call a leisurely breakfast!
---