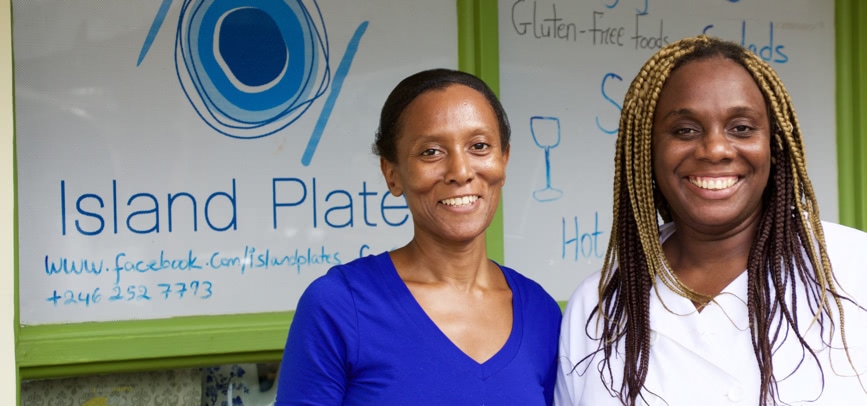 Island Plates, Speightstown – One of the Best Lunches in Barbados
Speightstown was once the busiest port in Barbados and the town gained its other name 'Little Bristol' as a result of the trade in sugar and other goods between here and its larger namesake in England. Today, the town remains unspoilt by tourism and is very 'lived in' with fruit and vegetable sellers lining the main street and locals going about their business at their own pace.
Tucked away at the back of the small car park in the centre of town you'll find Island Plates (address: 1 Town Square, Queen's St, Speightstown, Barbados).
The small covered deck is the only clue that there might be something worth investigating here and I'm sure many visitors will never spot it. But what a find!

---
Island Plates is the passion of two sisters, Pat and Marie and two nicer ladies you would be hard pressed to find. Pat cooks everything to order and Marie provides friendly and attentive service to diners on the small deck. Although on the edge of the car park, the deck area is pleasantly shaded and the cats and chickens running around provide entertainment for the children.

This is the perfect spot for an inexpensive local lunch. The choice on the menu is relatively limited but varies often and offers a choice of filled baguettes, salads and daily specials. Saturday is usually Curry Day, which is most definitely my favourite. Your meal could be accompanied delicious fruit smoothies and fresh juices (try the tamarind juice when in season) or a choice or local beers.

So make sure you put Island Plates on your visit list when taking a holiday in Barbados. It isn't fancy and its location isn't spectacular but it is extremely 'honest', a bit like Speightstown itself. Great food, great value and a wonderful welcome from two of the nicest people you could wish to meet on the island.
---