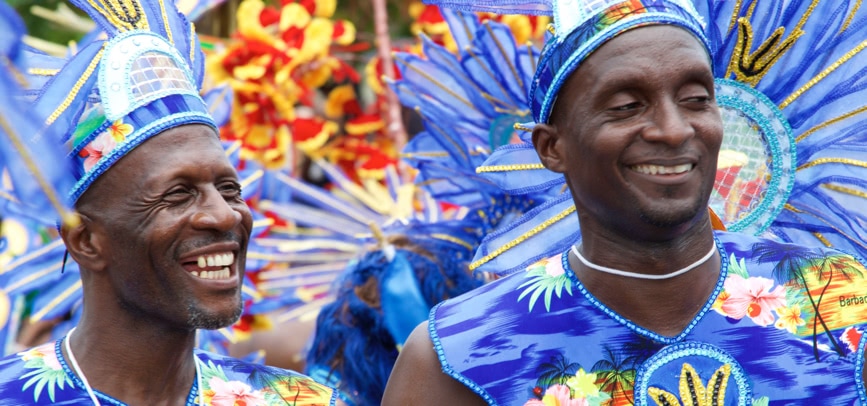 Kadooment Day – Crop Over's Grand Finale
We always try to arrange things so that we are in Barbados for the first Monday in August. This is Kadooment Day and the one day in the year when the whole island seems to let its collective hair down and party – big time.
And the word Kadooment is apparently a bajan term meaning: a big occasion filled with fun & merriment. That sounds about right to me.

What does Kadooment Day celebrate?
The Grand Kadooment Carnival Parade is the climax of nearly two months of preparation and events to celebrate Crop Over, a celebration that originally marked the end of the sugar cane harvest. Today, Crop Over is an eagerly awaited feature on the Barbados calendar with many ex-pat Bajans returning to the island to join the party at the beginning of August.
If you are staying in Barbados at this time of year, please don't pass up the opportunity to take in the atmosphere.
Crop Over events & activities weekend
The weekend starts on Friday with the Pic-o-de-Crop calypso competition finals at the National Stadium. You can expect this to end with a jump-up (or dance party), which usually doesn't get going until well after midnight and ends at daybreak on Saturday morning. Revellers usually cover over 2 miles between Bridgetown and the Spring Garden Highway.
After a short period to recover, things get going again on Sunday with Cohobblopot, an event featuring performances by some of the biggest bands and soca artists in Barbados and where Kadooment bands display their elaborate and stunning costumes.

Kadooment Day itself culminates with a parade of Masquerade Bands, with revellers following a route through the streets of Bridgetown in a Carnival-like fashion to be judged at strategic points along the route which also ends on the Spring Garden Highway.
Where to enjoy the festival?
We often take up position at Eagle Hall where the road is lined with spectators and food stands and spend an hour watching the parade, which is great fun, extremely loud and often rather rum-fuelled. We have never been concerned about safety but keep your wits about you as you would at any busy event.
Be prepared to witness a good deal of twerking too. If you are of a sensitive disposition or have young children it might be one to miss.
If you wish to visit Barbados during Kadooment Day, don't forget to check all of our collections of villas and apartments in the Island.
---