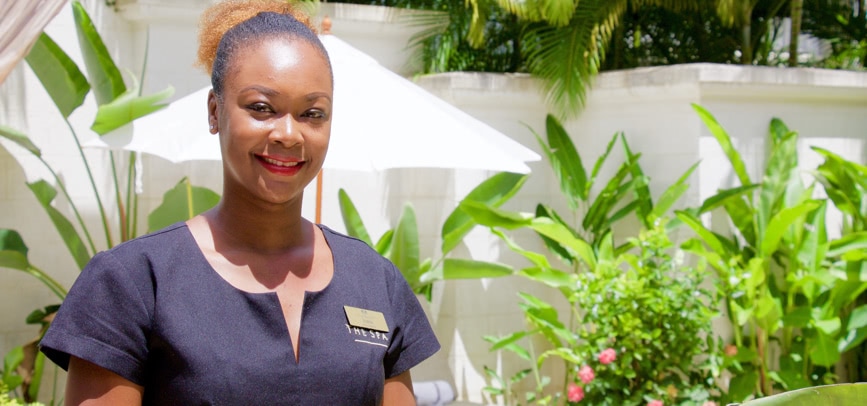 Massage and Spa in Barbados: Coral Reef Barbados Spa
Beautiful Barbados with its sunshine, beaches and casual vibe should provide everything you need for total relaxation and that get-away-from-it-all feeling.
But sometimes, even in Barbados, it can take a little more to fully unwind and feel rejuvenated and a visit to a local spa is sometimes called for! Fortunately, Barbados offers a great selection of desirable wellness facilities and my choice, the Spa at The Coral Reef Club, offers a wonderful experience from the minute you enter.
Best Spa in Barbados
From the moment of arrival when welcomed by the lovely receptionist, you are immersed in a world of tranquillity and peace. I was shown through to the relaxation area with comfy sun loungers and provided with a welcome drink. This luxurious area is a quiet haven, complete with an outdoor Hydro-pool and cabanas for post treatment relaxation. The changing area is very smart with everything provided.

---
Massage at Coral Reef Barbados Spa
My personal therapist for my treatment that morning was Jnana and my chosen treatment was an Indian head massage. Indian head massage is a relaxing holistic treatment that uses acupressure massage on the head, face, neck and shoulders. It aims to rebalance your body's energies and is an ancient therapeutic treatment that has been practised in India for thousands of years.
It is incredibly relaxing and is especially good for relieving stress, tension, fatigue, insomnia, headaches, migraine and sinusitis.

---
Wellness and Treatments at Coral Reef Barbados
Jnana was lovely and after taking my details, she showed me through to a treatment room with its own patio and private garden. The treatment rooms have been designed to complement this colonial-style retreat and its tropical gardens. Coral walls and dark wood together with the Birds of Paradise decorating the garden walls provide the perfect setting to unwind.
Jnana made me feel completely relaxed and she explained clearly what my treatment would include and how each step would benefit me. Jnana is part of a skilled team of therapists who work at The Coral Reef Club Spa and has worked there for 7 years.
After an hour in Jnana's expert care, I felt a sense of total bliss and relaxation. Not only did the gorgeous treatment leave me feeling wonderful but, even more importantly, I could start to move my neck properly.
Have a look at other treatments on the Spa Menu.
How to book your Day Spa in Barbados
If you feel in the need of some quiet time, then indulging in some personal pampering at The Coral Reef Club Spa is a real treat not to be missed. The surroundings are sublime and the personal treatment you receive from the staff is excellent. I can't wait to return on my next visit to the island.
Find out more about The Coral Reef Club Spa.
---