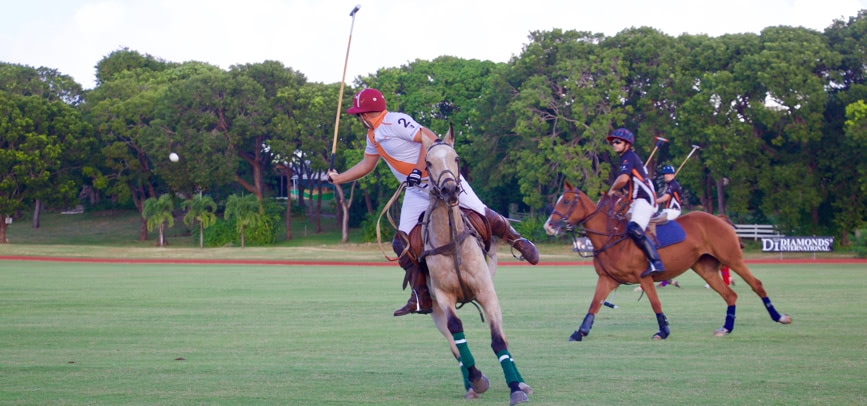 Polo, Food, and Rum in Barbados
The Barbados Food and Rum Festival is soon to return for its 10th year between 24th and 27th October 2019 - and we intend to be on island at that time to get involved.  The event is always strongly promoted by the tourism authority, as celebrity chefs converge on Barbados to reinforce its reputation as the Culinary Capital of the Caribbean.
One of the events we enjoyed most when we last attended in 2017 was Taste the Spirits of Polo which took place on the Saturday afternoon at Holders Polo Field, Holders Hill. We were in Barbados at the time so took an afternoon out to watch the polo, of course, but also to taste some of the food and wine on offer as part of the festival. Tickets at that time cost US$97.50 per person and included plentiful food and drink throughout the afternoon and early evening.

---
The polo started at 4pm and was an exhibition match between two Apes Hill Polo Club teams. It is a good introduction to the sport for those who are new to polo as it can be a little bit difficult to follow - particularly as a polo field is pretty large (270 metres by 150 metres or around 6 times the area of a football pitch) so you inevitably have to follow the action at quite a distance for much of the time. 

---
For the most part, however, it was the food and drink that seemed to be the main attraction for most visitors. The dress code was smart and the conversation was free-flowing - particularly as the sun went down and as the wine and cocktails continued to be poured. 

---
There were many small dishes to try with 'different takes' on local favourites including Fried Chicken and Plantain Croquettes, Smoked Braised Black Belly Lamb, Smoked Breadfruit and Pulled Pork Gratin and (my favourite) Crispy Pork Fries. There were some delicious sweet treats too and of course, a wide variety of rum-based cocktails to try. We thoroughly enjoyed our afternoon which was the perfect mix of food, drink, sunshine and an easy introduction to the game of polo. We look forward to returning for more at the end of October this year.
---