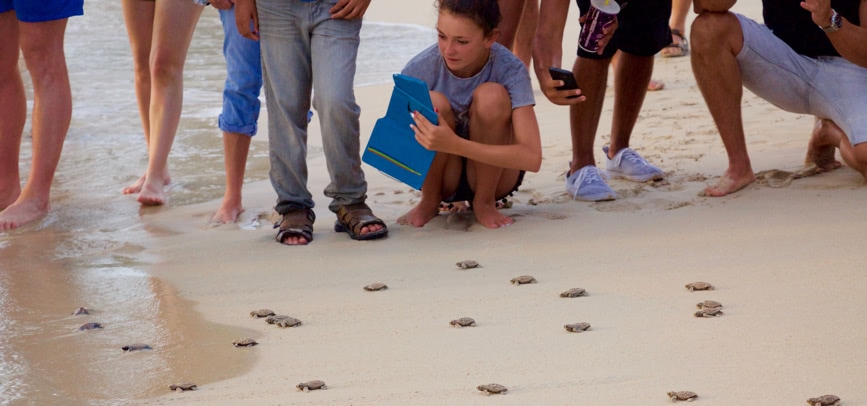 The Joy of a Sea Turtle Hatchling Release
Although we are regular visitors to Barbados, we still find the island's sea turtles bring us a huge amount of pleasure whenever we are there. You can swim with the turtles on an organised trip or simply swim out from the beach at certain points along the west coast (opposite Santi near the Lone Star is one of the best spots).
Barbados is home to the second largest nesting population of hawksbill turtles in the Wider Caribbean with up to 500 females nesting on the beaches every year. If you walk along the beach first thing in the morning you will often see the 'flipper prints' of females who have hauled themselves up the beach at night to lay their eggs in the sand before returning to the sea.
After around 60 days, the hatchlings are ready to make their way back down the beach to the sea and start their lives, which might extend to over 50 years. Very few hatchlings make it to adulthood though and even the first steps for a baby sea turtle can be perilous. Natural predators (seabirds and crabs) can soon end a young life but there are man-made obstacles to survival too. Hatchlings find their way down the beach thanks to light reflected on the sea but man-made light sources can disorientate the hatchlings.
The Barbados Sea Turtle Project (BSTP) works tirelessly to improve the natural habitat of nesting females and their young and also intervene to give young hatchlings the very best start in life. As part of their conservation work, the BSTP arrange hatchling release events throughout the summer and we were delighted to attend one such event on 30th July when 123 baby hawksbills were released to their aquatic future.
---
Our short (and we admit, rather hand-made) video gives you a feel for the event, which was attended by nearly 100 people. The children present simply loved being part of the occasion and we would highly recommend getting along to a similar hatchling release the next time you are on the island (generally between July and October).
The BSTP tend to announce a release with just a few hours' notice so make sure you receive notifications by liking their Facebook page or sign up to the Hatchling Release Notification List. 
---