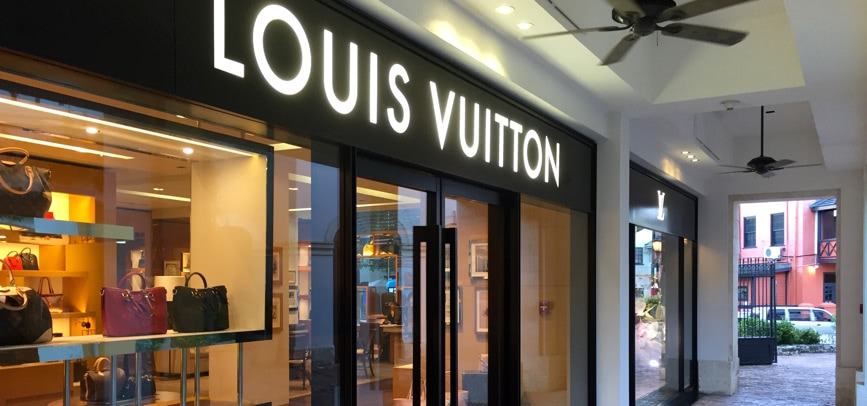 Designer Shopping in Barbados: Limegrove Lifestyle Centre
Mention the words "retail therapy" or "designer brands" or combine these words into a sentence whilst on holiday in Barbados and my husband, Mark will run for the hills, a beach or possibly a rum shack. But I see things a little differently and when the Limegrove Lifestyle Centre appeared, it seemed almost overnight, in Holetown I had to go shopping and investigate – many times.
Where to go shopping in Barbados? 
Holetown is deservedly popular with visitors to the sunny island and is famous for its plentiful restaurants, bars, easy-going nightlife and shopping in the brightly coloured chattel houses. Limegrove is situated in the heart of Holetown, just opposite 1st Street and now offers even more to the visitor with everything clustered together in this well-designed shopping district.
Lovely décor, tall palms and water features combine with designer shop fronts to create an air of calm – for me at least! Duty free jewellers, high-end designer shops, local boutiques, an array of dining options, entertainment and nightlife – the perfect combination.

---
Which brands can I find when Designer Shopping in Barbados? 
The big brands such as Burberry, Ralph Lauren, Armani, Michael Kors and Louis Vuitton all feature here. But there are also many little boutique stores, which are well worth visiting. You can check here the full store directory in Limegrove. 
There are plenty of seating areas all around, generally occupied by partners logging on to the free Wi-Fi and checking important emails while their other halves move around the shops.
Limegrove Barbados: food and cinema
When your shopping (or window shopping) is complete, a visit to the Lime Bar in the open central courtyard is well worthwhile with a great choice of local beers, cocktails and snacks. This place has become pretty popular with locals and tourists a like, especially at the weekend, with the buzz going on late into the evening.

If shopping isn't your thing, Limegrove is still worth a visit for a night at the movies. It isn't the biggest cinema in the world but it is one of the most comfortable and, although a little pricey, it is very well worth it for the experience.
Choose the 'Gold' seating area for lovely comfy chairs with foot rests and while you settle and relax, your host or hostess will offer you the menu with a choice of food and drink – all served at your seat for the perfect cinema experience.
Limegrove, Barbados may not be everyone's cup of tea but it certainly ticks quite a few boxes for me. I think for Mark, it really only comes into its own on those rare occasions when the skies darken and a tropical storm appears on the horizon! Personally, I don't mind a little bit of rain from time to time ;-)
Looking for other types of relaxation? You can also check out how to go enjoy on a Spa Day in Barbados
---