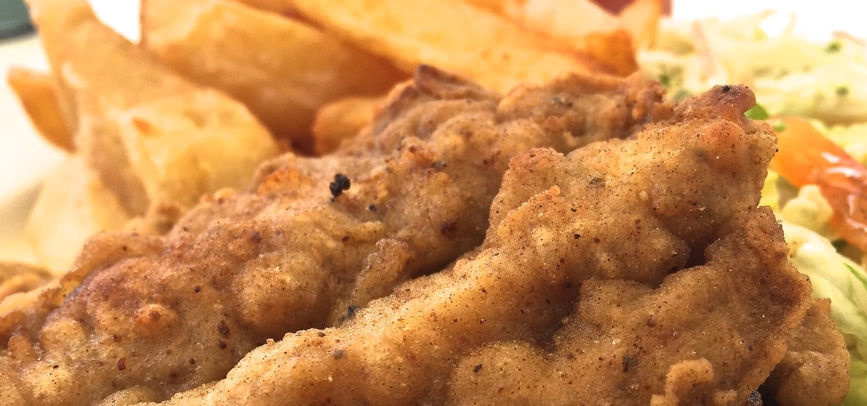 Fish and Chips with a Bajan Twist – a Simple Flying Fish Recipe
Barbados is often known as the land of the flying fish and it is even depicted on the island's one dollar coin.
Flying fish found in the waters around Barbados are usually around 10 inches long and are similar in shape to a herring. They have the ability to 'fly' for up to 40 metres, launching themselves out of the water at around 30 miles per hour and gliding with their substantial pectoral fins.
You will usually find fresh, filleted flying fish for sale at your local fish market in Barbados or, if the catch isn't yet in, packets of frozen fish are also available at the local supermarket.

Barbados National Flying Fish Dishes
The national dish of Barbados is, in fact, cou cou and flying fish. Cou cou is made with corn meal and okra and the flying fish is steamed.
This can be delicious but not to everyone's taste so here we're focusing on the other popular way to eat the fish – fried with plenty of seasoning.
Need more Bajan recipes? See: Bajan Fish Cakes – Become a Legend with this Simple Recipe
Flying Fish and Chips Recipe
Ingredients:
• 8 flying fish fillets
• Bajan Seasoning*
• 2 eggs beaten
• Fine breadcrumbs**
• Salt and pepper
• Oil for frying
• Lime or lemon slices for garnish
* Bajan Seasoning can be bought at local supermarkets. It is a staple in most Barbadian homes and is a mix of onions, garlic, peppers, herbs and spices.

** Breadcrumbs in Barbados are very fine and almost like a powder. If you use course breadcrumbs or panko you will end up with a very different and less authentic result.
Directions:
Spread some Bajan Seasoning over the meaty side of each fish fillet, working it well into the flesh. Leave for around 1 hour. Dip each fish fillet into the beaten egg and then the breadcrumbs. Fry gently in little oil for around 10 minutes. Drain and serve with chips, rice and peas or macaroni pie.
---
If cooking isn't your favourite activity, you see our restaurant recommendations in Barbados:
- Sunday lunch Barbados style: our top 5 buffet lunch recommendations
- Cici is Our Local Food Van Heroine
- Fine Dining in Barbados – Our Top 5 Restaurant Recommendations
---