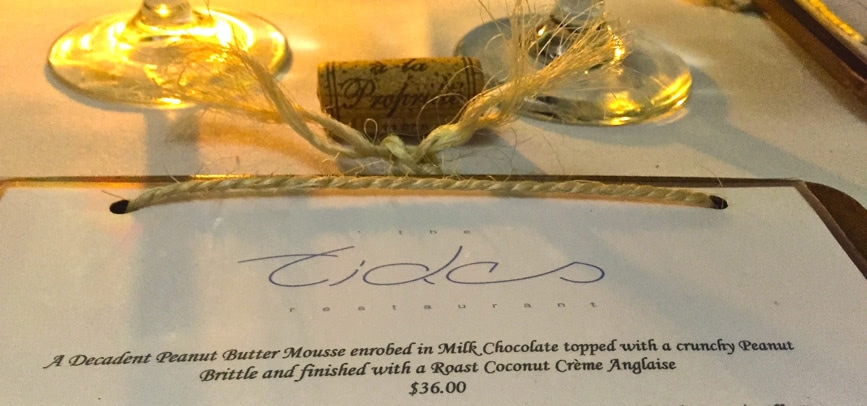 Fine Dining in Barbados – Our Top 5 Restaurant Recommendations
Whether you are a Barbados 'regular' or someone who has just read some of the many words written about the island, you will already know that there are some top restaurants in Barbados. During the pandemic we saw a number of restaurants close and new restaurants open, so we thought it was worth taking another look at the current offerings.
Trying to narrow down the options to a top five is obviously difficult and involved a good deal of diligent research – it's a hard life on occasions! So, our choices are based on our own experience and our own tastes.

---
5 Best Restaurants in Barbados for Fine Dining
So, our current top five Barbados restaurants for fine dining are currently:
1. The Cliff, Derricks, St James, Barbados
The Cliff has been the stand-out restaurant in Barbados for many years, but it closed at the beginning of the pandemic and only re-opened in autumn 2022. It is now under new ownership and has undergone a complete refit – losing much of its original and unique character and now feeling very modern and very refined.
The new Culinary Director is Matt Worswick who was most recently Head Chef at Gordon Ramsay's Savoy Grill and the food continues to impress.
The three-course menu is priced at BDS$330 (currently around £140) so by the time you've added pre-dinner cocktails, a good bottle of wine, service charge etc., receiving the bill certainly isn't the best part of the evening. But that's not to say it isn't worth every penny. A meal at The Cliff remains a true experience and won't disappoint.
We would be happy to reserve a table at The Cliff for you as part of our pre-arrival service or you can call +1 (246) 432-1922 or book online.
2. The Tides, Holetown, St James, Barbados
The Tides was always a favourite of ours and we have never been disappointed when dining here.
The restaurant underwent a major and very successful revamp pre-pandemic but chef/owner Guy Beasley decided to sell as the pandemic took hold and the restaurant now operates under the same ownership as The Cliff (the Happy Restaurants Group).
Despite concerns that the character of the place might change, the friendliness of the Tides team certainly remains and the introduction of live music on many evenings, whilst different, certainly can't be considered a negative.
The menu is possibly a little less interesting than was once the case, but the food remains well prepared and well-presented and the setting is, of course, just the same: open and airy with the waterfront tables dotted amongst old trees which from part of the building's structure. We recommend arriving early and enjoying a cocktail in the bar, which also doubles as a gallery for some of the best art on the island. Read our full review of dining at The Tides.
We would be happy to reserve a table at The Tides for you as part of our pre-arrival service or you can call +1 (246) 432 8356 or book online.
3. The Lone Star, Mount Standfast, St James, Barbados
The Lone Star sits in an idyllic position on one of the best beaches in Barbados – Alleynes Bay. The former Lone Star Garage continues to be a magnet for famous names and there is a very high chance you will recognise at least one of your fellow diners if you visit.
There was a time when we might have suggested that the food didn't quite live up to the reputation, but we have changed our minds over the past 12 months and now rate the food very highly and have had some excellent meals here recently.
The menu has a slight Italian influence but also features classic English dishes (with a fine dining twist): chicken tikka curry, shepherd's pie and beer-battered cod and chips. There is also a children's menu and a lighter lunch menu, which even features sandwiches and pizzas.
It is the Lone Star's setting which really sets it apart. If you arrive by car, you will descend the stairs with the most magnificent view of the beach and ocean ahead, but you can also arrive at the restaurant from the beach and wash the sand from between your toes with the footbath provided. Perfect.
We would be happy to reserve a table at The Lone Star for you as part of our pre-arrival service or you can call +1 (246) 539 0600 or book online.
4. Fusion Rooftop, Holetown, St James, Barbados
Don't let the location of Fusion Rooftop deter you. Unlike some of our other favourites, Fusion doesn't have a waterfront location and is, in fact, perched at the top of the Limegrove shopping centre in Holetown. But for dining after dark with the roof open to the night sky, it works very well indeed. The food here is first-class – as you might imagine from the restaurant's name, there is a good mix of cuisines here from traditional Caribbean to Thai and Sushi. Service is friendly and attentive with a good mix of patrons – this definitely isn't a tourist-only spot. Arrive early and take your seat on a comfy sofa for a pre-dinner cocktail.
We would be happy to reserve a table at Fusion Rooftop for you as part of our pre-arrival service or you can call +1 (246) 271-1258 or book online.
5. QP Bistro, Derricks, St James, Barbados
Previously known as The Cliff Beach Club and sited next to The Cliff as a sister restaurant, QP Bistro was so named at a time when, under new ownership, The Cliff was to be renamed Quattro Passi. It's a long story but the decision to rename The Cliff was reversed ahead of reopening, whereas the old Cliff Beach Club had already re-opened under its new name.
The setting is still stunning and the décor modern and stylish with the vibe, casual and relaxed which we particularly like. There's a varied programme of live music and special events here and its worth arriving a little early and spending some time at the friendly bar, which overlooks the restaurant before your meal.
The menu includes lighter options, particularly welcome at lunch, but flavours and presentation are top notch as the menu is overseen by the same culinary director as its pricier sister restaurant, next door.
We would be happy to reserve a table at The Cliff for you as part of our pre-arrival service or you can call +1 (246) 432-1922 or book online.
---
Want more ideas of restaurants in Barbados? Please check our recommendations below:
If you are looking for the best villas and apartments in Barbados, please have a look at all our Barbados Villa Collections or at the Best Places to Stay in Barbados.
---