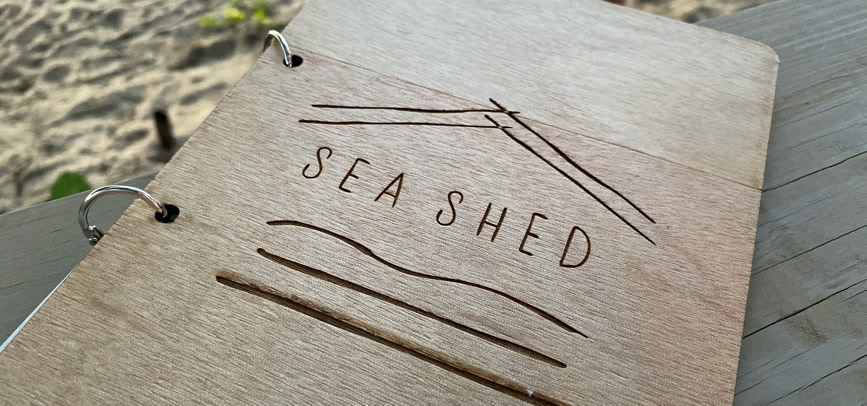 Sea Shed – The New Mullins Beach Bar on Opening Night
Those of us who are lucky enough to call Mullins Beach
home
agree that for a long time there was one undisputed King of the beach, and that was Mullins Beach Bar. Famously friendly, fun, and unique; the drinks were well priced and the food was just right for a casual lunch. Sadly the original Mullins Beach Bar hit the end of its run in March 2018 when
Royal Westmoreland
decided to
operate the premises themselves
, choosing to turn it into a members only 'Beach Club', effectively making it inaccessible to all non-members (including local residents). From then on the King of Mullins Beach was no more, and we've all been looking for a worthy successor ever since.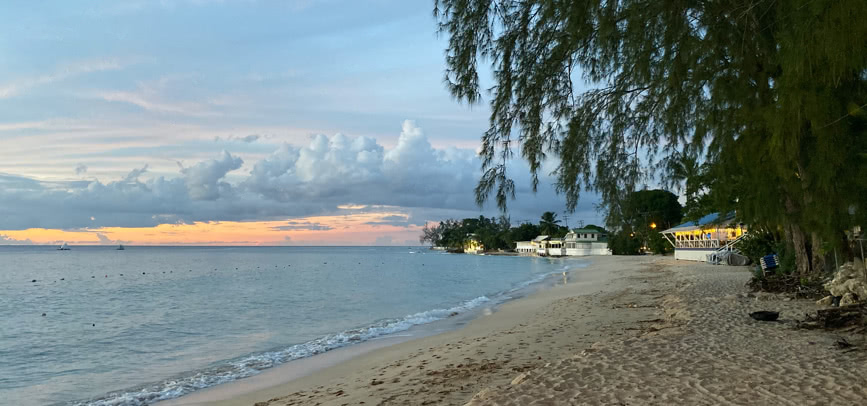 Having been bar-less for a while, imagine our growing excitement in recent months as we started to hear rumours of a new beach bar coming to Mullins, virtually next door to the old one – would it be any good? Could it live up to the original? Well, there was only one way to find out, so on Friday night my wife Cat and I headed out (with our toddler) for the opening night of Mullins' newest beach bar named simply, '
Sea Shed
'.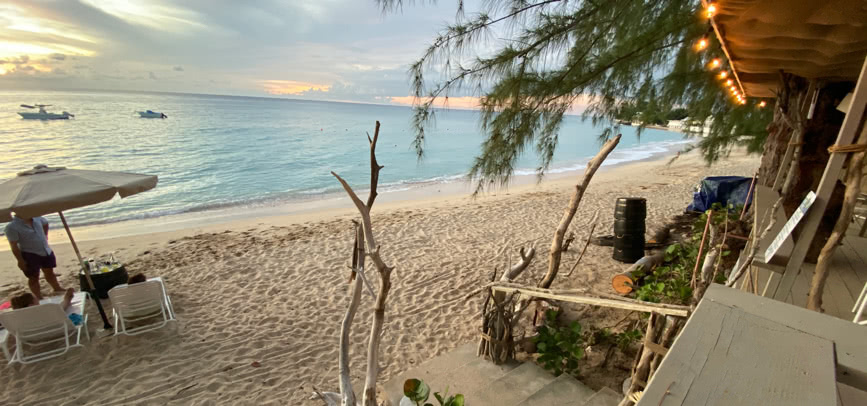 We wandered down to catch the sunset and entered via the bar's car park to be greeted warmly by the staff – we hadn't booked but perhaps we should have as it turned out we were lucky to get a seat, with many tables already booked for later that evening. We were shown from the entrance through the open air seating area, with it's informal brick floor, to be seated on high up bar-type seats overlooking the ocean. A highchair was swiftly provided for little Audrey, her mother and I towering high above her on our bar stool chairs – a comical juxtaposition which made us both chuckle, but she was happy and so we moved on to peruse the drinks menu.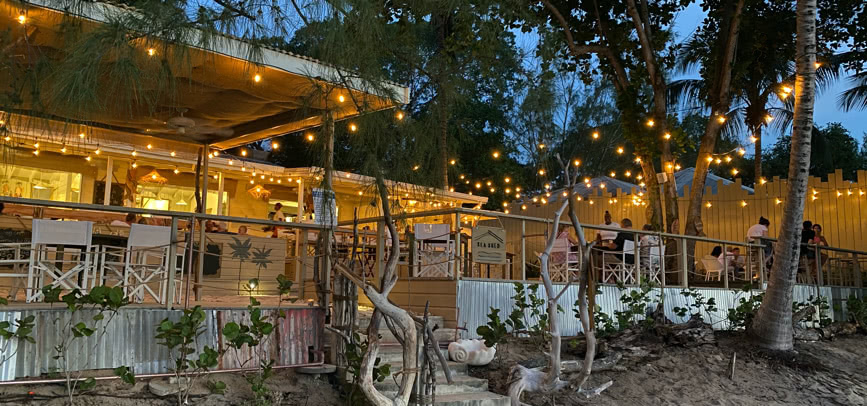 The service we received was both attentive and considerate throughout the evening, with insect repellent being freely offered, and tap water, usually flavoured with lemon and cucumber, instead being offered unflavoured for our infant which was a thoughtful touch – kids can be picky after all. With the cocktail menu all priced at BBD $18 (USD $9) each, Cat and I ordered a Mojito and a Piña Colada, both of which were promptly delivered with sea-turtle-friendly paper straws in place.
The mojito made for a refreshing treat on a warm evening, and although my Piña Colada (don't judge me) could have taken a splash more rum, I have no doubt that it was text-book-perfect in it's execution; in truth I suspect I've just been spoilt by one too many overly generous rum pours during my years in Barbados, something which was a staple feature of the original Mullins Beach Bar and a tradition which lives on at
Little Bristol Bar
in
Speightstown
.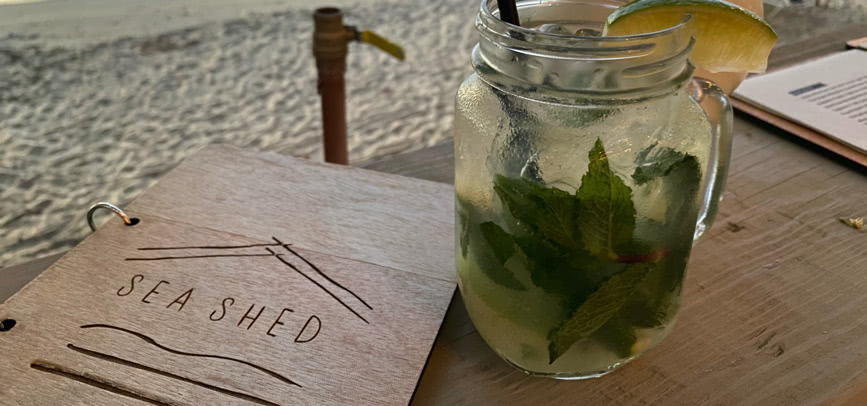 As we supped on our drinks and watched the sun set, the scent of citronella wafted through the air from strategically placed candles, warding off evil spirits and pesky mosquitos. We watched the kitchen running a busy service as we sat and couldn't help but notice plate after plate of instagram worthy dishes floating through the air behind us, held aloft en route to the customers' table by friendly waiting staff in their signature dusty pink shorts and bright white t-shirts.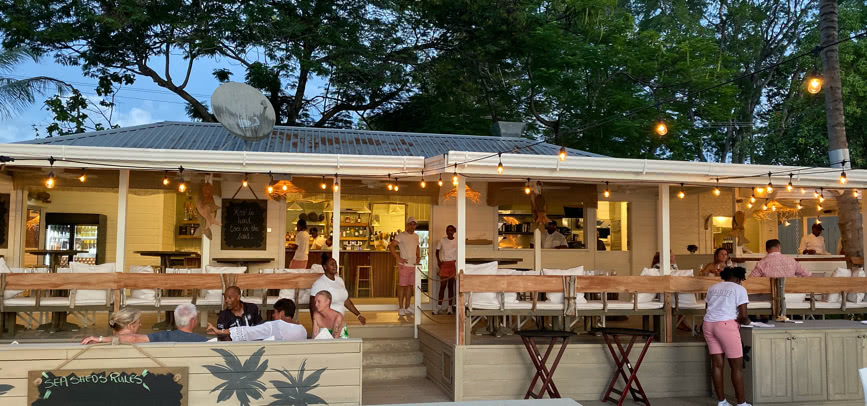 Dining is clearly a major focus for Sea Shed, indeed we were some of the only people in for a quick drink without eating, with most customers sitting down for dinner. In the lead up to the opening, a photo on
Sea Shed's instagram
account teased resident chef
Jérémy Duprie
's beautifully posed culinary creations. It appears that our new local watering hole will be very much a food first, drinks second, breed of beach bar and frankly, if both are good, then I'm fine with that.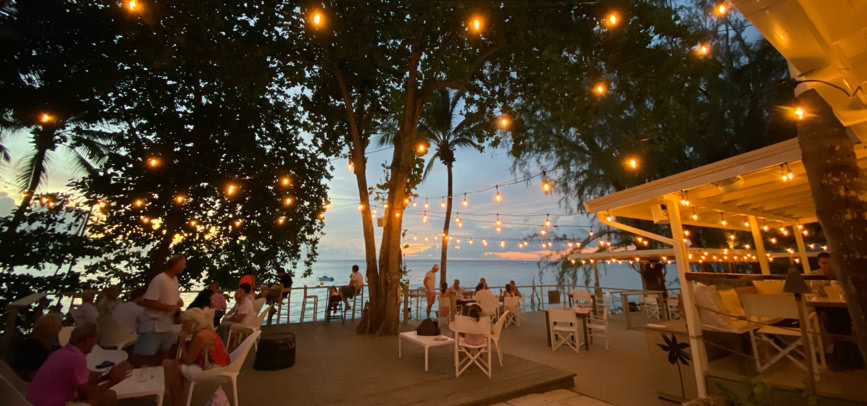 While our parental duties meant we didn't have time to eat, the food that we did see certainly looked tasty and was well presented. The prominent pizza oven was popular, producing BBD $37 (USD $18.50) margherita for the customer next to us, which while 'dainty' did look delicious and I look forward to coming back to try it myself!

Prices for drinks are 'okay' if a little high, with a Banks Beer coming in at BBD $10 (USD $5). Naturally, with a more gourmet menu, come more gourmet menu prices, and food was undeniably more 'restaurant' than 'beach bar' in both respects – some current 'signature dishes' include:
---
Sea Shed Nachos
Local Crisps Guacamole Spicy Salsa Garlic Cream, Jalapenos Mozzarella Parmesan Chives BD$54
Tuna Tartare
Wakame Ginger Marinade Radishes BD$46
Tuna Poke Bowl
Sushi Rice Carrots Wakame Edamame Red Onions Cucumbers Pineapple Radishes Ginger Marination BD$59
Chargrilled Octopus
Sweet Potato Salad Red Onions Spicy Mayonnaise Fresh Herbs Smoked Oil BD$56
Grilled Lobster Tail
Garlic Fries Aioli Garlic & Parsley Butter BD$110 (seasonal)
Vongole Pasta
Clams Garlic Cherry Tomatoes Parsley White Wine Butter Onion BD$72
Lamb Rack
Garbanzo Salad Feta Cheese Tzatziki Sauce BD$84 (served medium)
Spicy Octopus Risotto
Garlic Cherry Tomatoes White Wine Scotch Bonnet Butter Parmesan Parsley BD$75
Wagyu Burger
Aioli Arugula Tomatoes Caramelised Onions Pickles Cheddar Cheese French Fries BD$59 (served medium)
Lobster Roll
Cocktail Sauce Lettuce Avocado Tomatoes Red Onions Spicy Parmesan Wedges BD$72 (Seasonal)
Grilled Market Fish
Organic Black Rice Beurre Blanc Sauce Sauce Vierge BD$64
---
As we offer so many
villas close to Mullins beach
we are delighted to welcome the new arrival. While the opening of
Royal Westmoreland Beach Club
may have marked the end of the original 'come one, come all' Mullins Beach Bar's reign, Sea Shed looks set to be a successor worthy of taking the crown as Mullins Beach's favourite beach bar.
The King is dead, long live the King!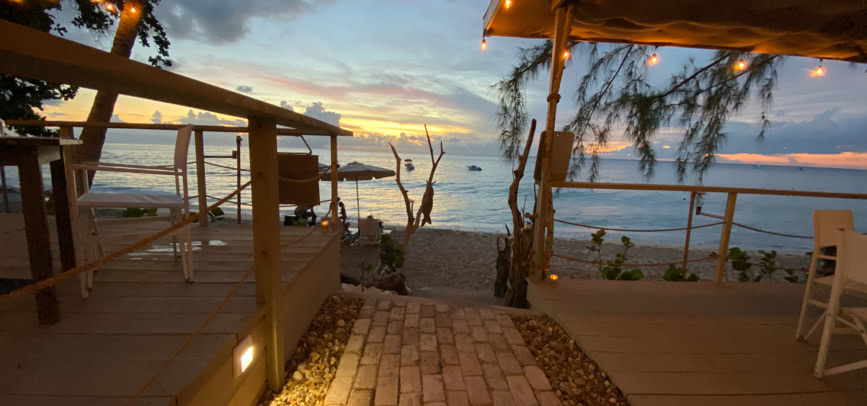 Some villas and apartments that you might like to consider within walking distance of the Sea Shed include:
---