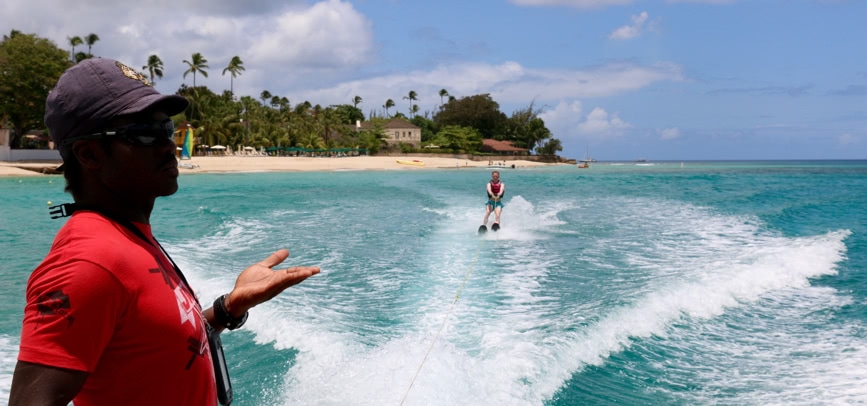 The Best Barbados Water-Skiing: Tiger Tony Speedboat, at Alleynes Bay
A permanent sight in the shallows of the wonderful sweep of Alleynes Bay, Tiger Tony's humble speedboat is a constant reminder to me that my younger brother, Will is the superior water-skier.
I'm sure this was not always the case but he has probably spent more time with Tony in the past couple of years and practice makes (nearly) perfect...

---
We became friends with Tony on one of our first visits to the island and haven't turned to anyone else since; he is our go-to-guy for all things that involve a speedboat.
As a teacher, he tends to gauge your 'level of ambition' and how serious you are about learning to water-ski. If it's your first time and you are unlikely to become a world champion anytime soon, he will slow it down and make sure everyone on board has a good time.
But if Tony does sense a slightly competitive streak, he is not afraid to challenge you to becoming the best skier you can be. Either way, be prepared to get wet!

---
Whenever I'm up and skiing, it's a wonderful feeling: it doesn't get much better than soaking up the view of the sea and the shore, and for a split second, I kid myself that I've made it, I'm looking good; and that is when I fall, much to Will's amusement of course.
Where and How to Water Ski in Barbados?
Tony is based on Alleynes beach next to Ju Ju's bar. Look out for his Aqua Tiger boat or ask anyone on the beach – he's well known to everyone.
I'm looking forward to my next visit to Barbados already and I will be sure to head out with Tony for my regular session. Whether I will ever become more proficient than my brother remains to be seen.
In Alleynes Beach, you can also check out Charlie's jet ski rentals, which we couldn't recommend more.
If you also like fishing and snorkelling, check out blog post with the best private charters for fishing in Barbados.
---
Love waterskiing? Where to stay near Alleynes Beach
Alleyne's Bay is a beautiful, less crowded beach located in St. James, Barbados. The golden sand is clean and the clear Caribbean Sea is perfect for waterskiing, swimming and snorkeling. The nearby towns are Holetown and Speightstown. Alleyne's Bay is also close to the Royal Westmoreland Golf Course.
See some of our favourite villas in the area:
---