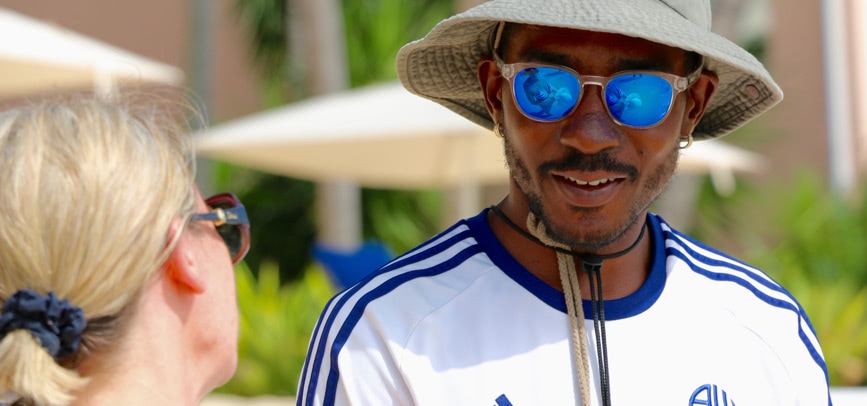 The Best Barbados Jet Ski with Charlie, on Alleynes Beach
My son Will, was 7 years old when he visited Barbados for the first time; many trips later and he is now approaching 17. If you ask him to name one person he has become particularly fond of during the time he has spent on the island, he would have no hesitation in naming him! It would be Charlie, the best jet ski guy in Barbados.

Always sporting a large floppy hat and normally wearing a football shirt (often Chelsea for Will's benefit but probably other teams when other clients visit!) he is never without his cheeky smile! As a first time visitor to Barbados all those years ago, it took a little while to get used to the locals on the beach; all with a story to tell and usually with something to sell. More often than not it was half an hour on something that could head across the calm waters at great speed - perhaps a jet ski, or some sort of inflatable towed behind a speedboat.

We met Charlie on one those first few days on the island and his calm, friendly and laid-back personality soon won us over. We were quickly convinced that our children's holiday would be less than complete without a ride on a jet ski with him. He even convinced us that we should give it ago too. And give it ago we all did and on more than one occasion that holiday!


---
Barbados Jet Ski Rental on Alleynes Beach

We spent many days on Alleynes beach during those two weeks, enjoying the sun, sea and sand. Many an afternoon was spent in and out of the sea but beach cricket became a favourite with the kids and Charlie soon got involved as bowler, batsman (when allowed) and wicket keeper! At the end of that first holiday we all said goodbye and hoped we would be back.

A couple of years later and we did return and the only person Will wanted to track down was Charlie. Within moments of reaching the beach we were greeted by the familiar sight of Charlie walking along the beach, floppy hat still in place. He welcomed us like long lost friends and commented on how much the kids had grown. We all took up where we had left off with jet ski rides and a game of cricket.

A good few years and quite a number of visits later and the children are now pretty much grown up and certainly a good deal bigger. We know a good few people on the beach now but it's still Charlie who the kids want to see first when we head to the beach for the first time on a visit. He's always there and Will maintains there is no better jet ski guy around, refusing all offers from other jet ski operators. He's fiercely loyal to Charlie and with very good reason.

How to find Charlie for Jet Skiing in Barbados?
If you visit Alleynes beach, just ask for Charlie or listen out for the guy greeting people with the words "it's another lovely day in paradise". Who could disagree with that!
Interested in Watersports in Barbados? Check out our other personal tips:
---
Why stay near Alleynes Beach?

Alleynes Beach in St. James, Barbados is a stunning and less crowded beach. It boasts pristine golden sand and crystal-clear Caribbean Sea, making it a perfect destination for jetskiing, swimming, and snorkeling. Located near the towns of Holetown and Speightstown, Alleynes Beach also offers convenient access to the renowned Royal Westmoreland Golf Course.


See some of our favourite villas in the area:
---