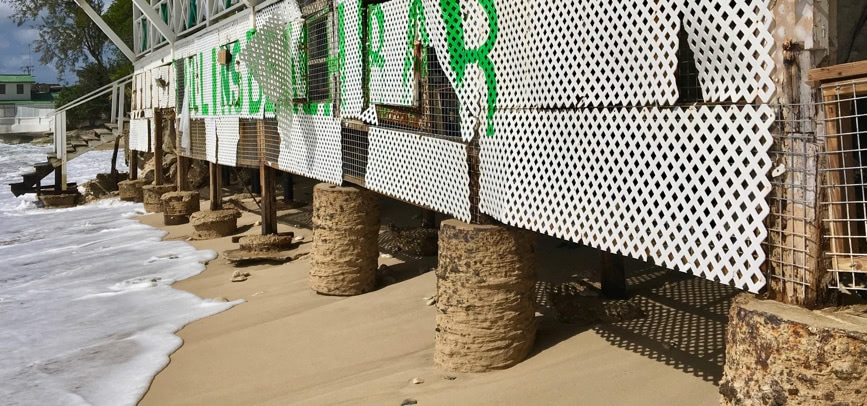 Mullins Beach Bar - End of an Era
We have been visiting Mullins Beach Bar & Grill under its current management for the past 5 years as our own Barbados home is just across the road. The building itself has been owned by Royal Westmoreland for some time but the lease has been held by local businessmen Rory and Jason who turned the bar into a huge success through a combination of great food, great staff and a fantastic island vibe which made Mullins the 'place to be' on the island.

---
The bar was home to the Royal Westmoreland Beach Club, with a separate seating area, discounts on food and drink and free beach loungers with a beach drinks service. Over half of the patrons were local home owners or visitors not staying at Royal Westmoreland and, in our view, this great mix of people made for a wonderful laid-back atmosphere.
As the lease was coming up for renewal, Royal Westmoreland made a decision that they wanted to turn Mullins Bar into a members-only club with access limited to owners or owners' guests staying at Royal Westmoreland. Rory and Jason reluctantly decided that they would have to move on as they couldn't agree to the new terms and they planned to leave at the end of April 2018 and hand back operations to Royal Westmoreland who would close for a while to carry out refurbishments and then re-open in the autumn.
We arrived in Barbados ourselves on 3rd March and enjoyed our regular first night meal at Mullins. We dropped in again, to the popular Sunday 'band night' the following day. We were home. Little did we know, this would be the last time we would be visiting Mullins Bar.
Over the next couple of days, we watched most unusual sea swells develop which didn't subside for many days. By Thursday morning the structure of the bar had been undermined by the waves as at least 2 metres of sand had been washed away from Mullins beach. The bar started to collapse and for a while it was thought it might be lost to the sea.

---
Fortunately, though damaged, the building remains, but it has now been closed indefinitely until safety assessments and repairs can be completed. This will inevitably take some time. Many of the Royal Westmoreland beach loungers were washed out to sea so this facility has also had to cease for the time being.
Royal Westmoreland are insisting that they will undertake necessary repairs as soon as possible but, in the meantime, they have made temporary alternative arrangements for members and members' guests. Local beachfront restaurants Jumas, The Lobster Pot and The Beach Shack which are run by the same management in Speightstown have agreed to provide beach loungers to any Royal Westmoreland members on the condition that they purchase food or drink in any of their establishments and will honour the members' discount on presentation of a valid Member's card. Beach towels won't be provided. Royal Westmoreland also plan to run the beach shuttle during the day to Speightstown.
If you're staying close to Mullins beach you will be pleased to hear that Rory and Jason have just taken over the lease of the old Cheers bar opposite Bombas and created a Mullins Bar 'pop-up' to be called 'The Wreck of Mullins'.  This will be open daily except Tuesdays from 12 Noon to 8pm and promises great food and familiar faces - but without the sea views.
There are also a number of good alternative bars and restaurants to visit if staying in the area. Bombas which is tucked away, opposite The Wreck of Mullins and not obviously found but is an excellent little seafront restaurant serving flavourful food (no credit cards). A little way back from the beach, close to Gibbs beach is Chris's Place – particularly good, simple food on a Friday evening and Da Outback which has very good reviews. In Speightstown, just a 5-minute car/taxi/bus ride away, there is a very wide choice of bars and restaurants. We particularly enjoy our visits to the Little Bristol Bar which is also run by Rory and Jason from Mullins Bar. Best nights are Wednesday and Friday when you can expect excellent live music to accompany your evening sundowners.
We will miss the old Mullins hugely, but Mother Nature has had her say and we move onward and upward. Rory and Jason have plans for other new ventures which we will be pleased to report on as soon as documents are signed! We look forward to meeting up with old friends in a new environment very soon.
UPDATE: NOVEMBER 2018
Mullins Bar has now re-opened as the Royal Westmoreland Beach Club - please take a look at our latest Blog.
---