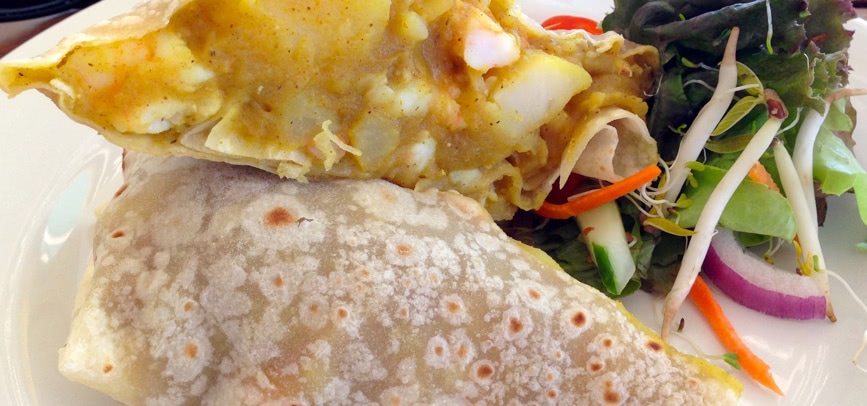 The Bajan Roti – A Delicious Island Favourite
Originating from the Indian Subcontinent, the roti is a simple unleavened flatbread, traditionally eaten as an accompaniment to cooked vegetables or curries. In the mid 1940s, the first roti shop appeared in Trinidad with the curry already enveloped in the roti – just like a modern-day wrap and easy to take away and eat on the go.
The word roti still correctly describes the original flatbread but today, if you ask for a roti in Barbados you will receive a delicious curry-filled wrap which will be as satisfying as it is tasty.
Favourite fillings include chicken, goat and lamb with potato an optional extra, which usually reduces the price (chicken and potato includes less chicken than chicken alone and personally, I would always include potato anyway!)

---
Where to find the best roti in Barbados
You will find the roti served all over Barbados: in the hot food cabinet next to the sandwiches at the local supermarket, at the local petrol station, at one of
the Bajan food vans
parked up on streets all over the island or at a specialist outlet such at the Roti Den close to our
villas and apartments on Paynes Bay
. You will also find them at Chefette – the island's brightly-coloured answer to McDonalds and they often feature on the lunch menus of smarter bars and restaurants along the coast.
So, the next time you rent a villa or apartment in Barbados and fancy eating like a local, keep your eye out for the roti. Once you've tried one you'll be back for more.
---