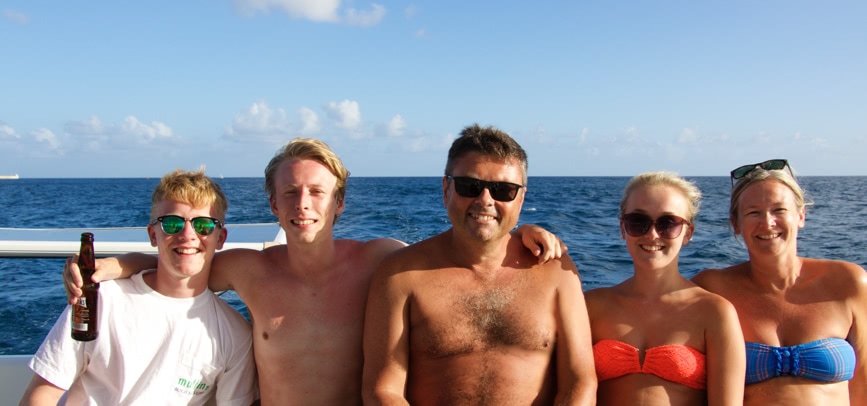 The Best Catamaran Sunset & Dinner Cruise in Barbados
There's nothing better than messing about on the water and, for me, it doesn't get much better than when that water is under a hot sun and when you're sailing on the Caribbean Sea. The warm, turquoise waters are calm and inviting and home to colourful fish and marvellous sea turtles. It really is a wonderful experience – even for 'non sailors'. But if you are visiting, how do you choose from the seemingly endless options of cruises and catamaran available in Barbados?
We have tested the waters on this before (pun intended) and have experienced a number of catamaran cruises on recent trips to the island of Barbados.
How to choose a catamaran cruise in Barbados?
The first thing to say is that catamaran cruises are not all the same and that's a good thing as long as you choose carefully. There are party boats aimed at younger visitors which sail around the island with music turned up loud, there are more laid-back catamaran cruises that offer a more gentle experience and there's the more expensive option of a private charter with exclusive use of the boat for the day.
Depending on your preferences and budget, you then need to find a good operator.

A quick Google search for catamaran cruises in Barbados will generate many results and many opinions but our most recent experience, earlier this year, was hugely successful and well worth recommending. For a change, we decided to arrange an evening sunset cruise which sounded perfect.
One of the best things you can experience whilst on the island is watching one of the magnificent west coast sunsets with a piña colada or rum punch in hand, so what better than to do this from the deck of a catamaran?

---
The Best Dinner and Sunset Cruise in Barbados
Silvermoon Catamaran cruises was our choice and we weren't disappointed. A 4-hour evening cruise included swimming and snorkelling with the turtles, dinner on board and an endless supply of drinks. Most importantly, for us, the numbers were limited to only 12 passengers and booking was easy and efficient.
We were collected from our villa after lunch and whisked down to Bridgetown where our catamaran awaited and we set sail just after 3pm. Our first port of call was Carlisle Bay to swim with the turtles and what a magical experience awaited us all. If you have swum with these beautiful creatures before, you will understand why it never ceases to delight young and old alike. And if snorkelling isn't your thing, don't worry; just swimming with the turtles is wonderful enough as they swim very near the surface and brush past you so you really feel part of their world.
We then set sail again and headed for Paynes Bay where we stayed over for dinner on board; a tasty buffet of local specialities and fortunately, plenty to go around, as everyone seemed to have worked up a good appetite. As the sun started to set, we sat with a drink in hand and took the compulsory photographs while the kids enjoyed a last swim in the sea.

We slowly sailed back to Bridgetown as the light started to fade. The views along the coast were just as good at this time of day and it was easy to pick out landmarks such as The Cliff restaurant with its torches burning brightly. With a last sun downer in hand we were offered home-made chocolate brownies as we sat on the trapeze with the waters rushing below and the stars beginning to shine in a clear sky above.
We all reached agreement pretty quickly that this had been magical afternoon and that we would carry some truly happy memories with us for a very long time.
---