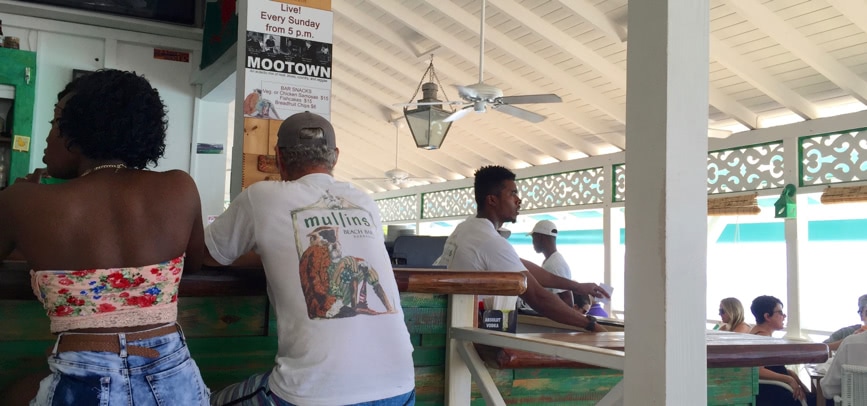 Visit Mullins Bar & Grill – It's Our Local
We are lucky enough to own our own little piece of paradise in Barbados and our own home is by Mullins beach, just south of Speightstown. The beach at Mullins is busy with plenty of sun beds and every type of watersports activity you can imagine.
If I'm honest, apart from an early morning walk along the (then) quiet sands, we don't spend quite so much time on the beach here and prefer a little more solitude at Gibbs which is a short walk away. We do, however, spend a good deal of our holiday time at Mullins Bar, which is set in a perfect position overlooking the beach (and which is a handy 2 minute stroll from our home). [Please see update below re: closure of Mullins Bar & Grill in April 2018]

---
Mullins Beach Bar & Grill to give it its full name is a wonderfully relaxed but busy bar, which serves food at lunchtime and into the early evening (no food after 7pm). It is run by the former managers of the famous Lone Star restaurant, Jason Hyndman and Rory Rodger and, as you might expect, they have everything spot on – from excellent food through to efficient but very friendly service.
This is very much a beach bar where it is quite normal to walk in with sandy feet and a sarong and there is a drinks service to the adjacent sun beds for members of the Royal Westmoreland Beach Club, which also has its home here. But the food here is also quite excellent with wide choice from rotis and burgers to a usually-quite-exceptional 'catch of the day' served blackened, grilled or pan fried.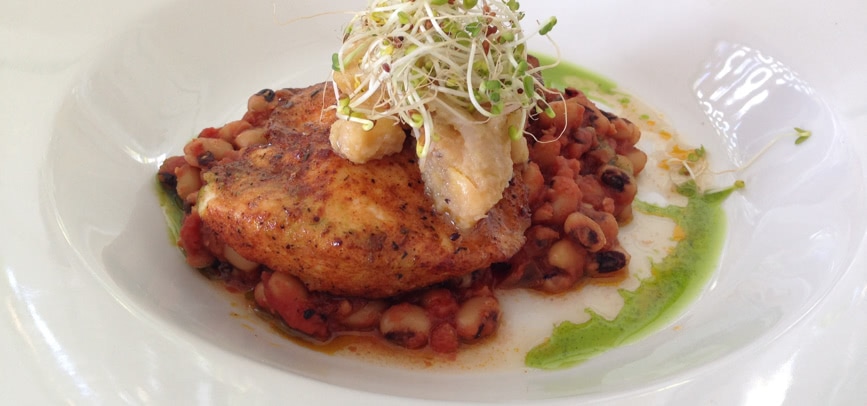 ---
The sun sets relatively early in the Caribbean and by 6pm as the sky turns such a wonderful colour, Mullins Bar comes into its own. It's the perfect place for an evening cocktail and the stools on the outside deck are perfectly positioned to watch the sun drop below the horizon.

---
It's not just 'locals' like us who come to Mullins Bar now and the place has clearly made a name for itself in the two short years it has been open. If you do decide to pay a visit then Sunday evening is the busiest time as there is usually a live band playing from around 5pm onwards. This is always great fun but be prepared for a very busy atmosphere and sharpen your elbows ahead of a visit to the bar.
So, please do visit our local when you are next in Barbados. We don't spend as much time on the island as we would like but do mention our names when you visit as we may be propping up some part of the bar and Mark would be happy to buy you a drink.
19th February 2018: Closure of Mullins Bar & Grill 
It is with huge regret that we have received confirmation that Mullins Bar & Grill will be closing on 29th April 2018 and the current managers, Rory and Jason will be moving on to run a new venture shortly afterwards.
As you may know, the building is owned by Royal Westmoreland and Mullins Bar has served as Royal Westmoreland's Beach Club as well as being open to the general public. We have been informed by Royal Westmoreland that they intend to re-open as a members-only bar/restaurant going forward but that there will be a period of refurbishment before the venue re-opens.
The current plan is that the new Royal Westmoreland Beach Club will open a bar-only service from July with the kitchen opening in October. The kitchen will serve lunches in the first year of operation and this is likely to extend to dinners in the second year only.
We have been told that access will be provided to registered guests of Royal Westmoreland homeowners only initially but that they are looking at offering a form of 'day pass' which will provide access to the bar and also sun loungers and towels. We have no further information about this at the moment.
A little while ago, there was some speculation that access to Mullins beach itself was going to be restricted but this is absolutely not the case. Everyone will be able to sit on Mullins beach as before and the guys offering sunbeds will still be there together with the water sports operators.
On a personal level, we are very sorry to see this change as we loved the bar (and the management and staff) for so many reasons. That said, there are other great places to eat and drink nearby and we know that Rory and Jason have plans to run a similar venture a short drive away. Watch this space...
---