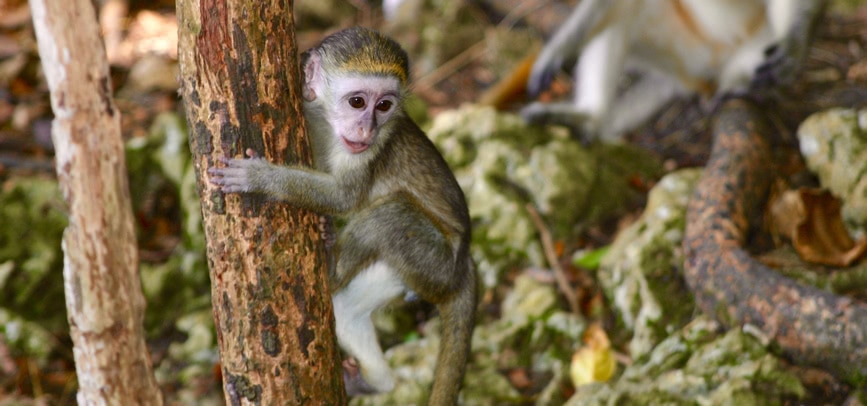 Zoo in Barbados? How to Visit the Wildlife Reserve
Perhaps my use of the word 'zoo' in the title of this post is rather inappropriate. There is, in truth, no zoo in Barbados but there is a 'wildlife reserve', which may similarly conjure images of lions, elephants and giraffes – all of which are conspicuously absent from the Barbados Wildlife Reserve. 
Many 'attractions' in Barbados are smaller than expected and the wildlife reserve is no exception. For 'impressive' substitute 'charming' and you start to get the picture but even if the rather odd collection of animals isn't quite what you might have imagined, the reserve is no less engaging for visitors or all ages and is well worth a visit.
Interested in activities in Barbados beyond the beach?
You can also read: Hunte's Gardens, Barbados – the most enchanting place on Earth?

---
How to plan your visit to Barbados Wildlife Reserve

On an afternoon when you fancy some respite from the heat of the beach, take a short drive inland from the coast and you will come across the shade of the Barbados Wildlife Reserve. It is located in a natural mahogany wood across the road from the Farley Hill National Park in the northern parish of St. Peter.
What types of animals will you spot here?
The reserve is home to green monkeys, which are free to come and go as they please but you will also see deer, peacocks, iguana and more tortoises than you could ever imagine possible. There are very few fences or cages here and visitors and residents are free to get up close and personal.
The animals appear quite at ease with visitors and this is one of the most engaging aspects of time spent here. But be prepared for the tortoises climbing over your toes if you happen to be standing in their path. 

---
The highlight of the day is feeding time at 2pm and I would strongly recommend planning your visit to coincide with the moment a wheelbarrow of fruit and vegetables is tipped out in the central feeding area.
As if in a scene from Bambi, animals start to appear from nowhere and converge on the clearing. As the eating frenzy starts the distant tortoises continue to make slow and apparently futile progress to the ever-diminishing pile of lunch. 
What are Barbados Wildlife Reserve hours of operation?
Entrance to the Barbados Wildlife Reserve costs $23.50 for adults and $11.75 for children and it opens between 10am and 5pm.
Look out for the Patagoniam Mara – a rather unusual creature resembling a giant rabbit but which is actually a rodent, closely related to the guinea pig!
---
If you're planning a trip to Barbados, make sure to see our villas & apartments collections. 
---