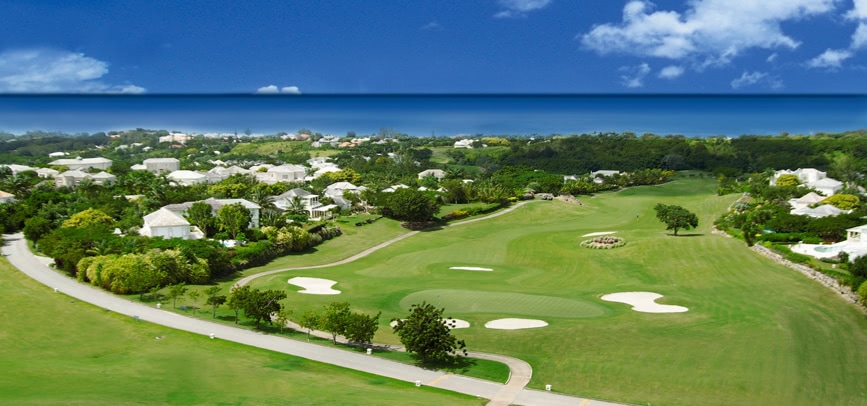 A Choice of the Best Golf Courses in the Caribbean
Barbados offers a choice of some of the best championship courses in the Caribbean and is increasingly regarded as one of the top Caribbean islands for a golf-based holiday. Whether you visit Barbados for golf-centred holiday or would just like to play the occasional round during your stay, the wonderful weather and attractive courses make this the perfect destination.
We offer villas at Royal Westmoreland and on the Sandy Lane estate and some villa rental prices include country club membership and even free use of a golf buggy. But there are a number of different courses you might also wish to consider during your stay which are summarised below.

---
The Barbados Golf Club
The Barbados Golf Club, is located at Durrants in the parish of Christ Church, quite close to Oistins in the south of the island. The Club's marketing message is 'golf for everyone' and it is true that this course is a great favourite with locals as well as visitors and has a much more accessible feel (and price) than more prestigious courses on the island. Originally opened in 1974 as the first public course in Barbados, it closed for renovation and reopened in 2000 to present a new environmentally friendly, links-style design. The Barbados Golf Club has been a frequent host to the Barbados Open and different PGA events and recent visitors describe it as "a lovely course in a beautiful setting with some really interesting holes… a good course for medium and high handicappers". Find out more
Apes Hill Club
One of the newest championship golf courses in the Caribbean, Apes Hill opened in late 2009 and enjoys a prime location at almost 1000 feet above sea level in the centre of Barbados. Apes Hill is a golf (and polo) community, which is still under development, and a large new clubhouse is currently under construction (due to be completed by September 2016). It is a beautiful looking course but fairly pricey and with the clubhouse still incomplete, some visitors feel the premium price isn't yet justified. One thing everyone is agreed on is that this is a very friendly place with wonderful service from the staff here. Find out more
Royal Westmoreland Golf & Country Club
The 18-hole course at the Royal Westmoreland Golf & Country Club is situated on a plateau, facing the west coast beaches. The course stretches over 750 acres of tropical landscape providing a wonderful setting and some stunning views towards the ocean. The course was designed by Robert Trent Jones Jr. and it is considered to be challenging but still accessible to relative beginners. Access to the course is reserved primarily for villa owners and rental guests but visitors staying elsewhere on the island can book tee times from Sunday to Friday between 10am and 11am only. After you finish your round, stick around for drinks and lunch in the impressive clubhouse, which has spectacular views over the course to the sea beyond. Find out more
Sandy Lane – The Country Club Course
With lush greens, five lakes and immaculate fairways, the Country Club course is a top class golf resort where nice wide fairways ensure wayward shots aren't punished too severely. It is obligatory to have a caddy here and they ensure you enjoy your golf with a wealth of local knowledge. Buggies are also mandatory (with built in GPS).
Sandy Lane – The Green Monkey Course
Sandy Lane describes the Green Monkey Course as "an ultra-exclusive 72 par, 7,343-yard golf course" and "a once in a lifetime experience that is simply not to be missed". It is reserved for Sandy Lane hotel guests only who pay green fees of around £270. Carved from an old limestone quarry and relatively open, visitors have sometimes expressed some disappointment that it possibly doesn't quite live up to the hype.
Sandy Lane – The Old Nine Course
The Old Nine course does hit the mark with visitors who often cite this as their favourite Sandy Lane course. As it meanders through the Sandy Lane estate, it is intimate yet demanding due to its small greens and tight tree-lined fairways. Constructed in 1961, the Old Nine is a par 36, 3,345 yard course. Caddies are not obligatory here and green fees are a little more reasonable.
Find out more about all Sandy Lane golf courses.
---