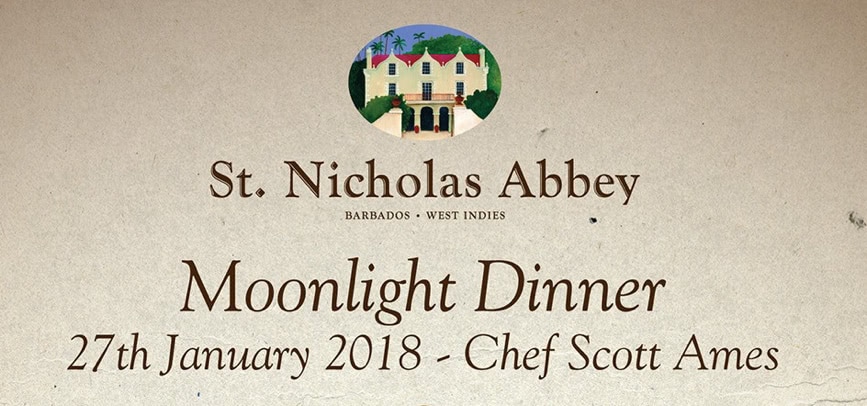 A Moonlight Dinner at St Nicholas Abbey, Barbados
We love to visit St Nicholas Abbey from time to time when we are in Barbados. The great house, built by Benjamin Berringer in 1658, is one of just three Jacobean style mansions remaining in the Western Hemisphere, and it is one of the finest historic sites in Barbados. The plantation still grinds sugar cane, grown on 225 acres of the 400-acre estate, and now produces a fine rum which is distilled on the premises.
The grounds at St Nicholas Abbey are really quite special and we always try to visit when we have a little time on our hands, so we can linger on the terrace overlooking the gulley or wander in the lower garden.
Once a month in winter, St Nicolas Abbey host a special Moonlight Dinner and we were delighted to attend on Saturday (27th January 2018). The evening commenced with cocktails and canapés before we were seated at our candlelit table on the terrace. The main course was provided as a wide-ranging buffet – from sushi to flying fish, beef wellington to jerk pork. The desert was served to our table and we were then treated to a digestif of 15-year-old St Nicholas Abby rum.

---
The excellent menu was created by Chef Scott Ames, who trained at a Michelin-starred restaurant in the UK and who then moved to work in a kitchen in Barbados in 2000. Throughout the evening, we were treated to entertainment from Sarah Taylor with steel pan accompaniment and we danced under the stars until it was time to wend our way home.

---
As a change from dining at one of the oceanfront restaurants on the West Coast of Barbados, we would thoroughly recommend experiencing one of the Moonlight Dinners at the Abbey. There are three further events planned in 2018: 24th February, 24th March and 28th April. There is a flat fee of BDS$350 per person which includes all drinks (except Champagne) and bookings should be made by calling +1 246 422-5357 or +1 246 422-8725 or visit the St Nicholas Abbey website.
---