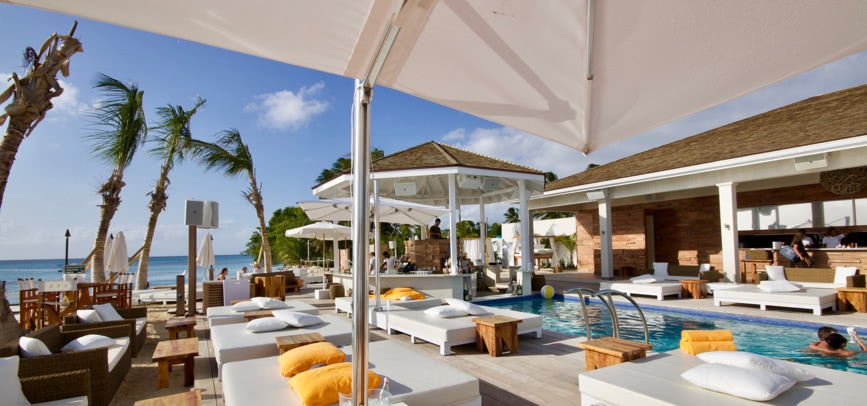 Nikki Beach Barbados – Now I'm Feeling My Age
Nikki Beach was founded in 1988 in South Beach, Florida by entrepreneur Jack Penrod. It claims to be "the first and original luxury beach club concept that combines the elements of music, dining, entertainment, fashion, film and art into one. Today, the Nikki Beach concept has transcended its international venues and grown into a global, multifaceted luxury lifestyle and hospitality brand." The Nikki Beach brand experience is offered in 14 worldwide locations from St Tropez to Marbella and from Ibiza to, now, Barbados.
Sitting next to a small beach at Port Ferdinand, to the north of Speightstown, the new Nikki Beach Barbados, opened just before Christmas 2017 and it is starting to settle in and become part of the Barbados entertainment landscape.
Lisa and I had met a couple of the local Nikki Beach team at Little Bristol Bar on a number of occasions and they invited us along to spend some time on the sunbeds and experience Nikki Beach for ourselves. We duly obliged – I was wearing my slightly sceptical hat ("luxury lifestyle brand" – not really my thing) but Lisa was rather more open minded and didn't see much wrong with the idea of an afternoon on a sunbed with a glass of champagne.
So, for what it's worth, these are the reflections of a 55-year-old Englishman who loves coming to Barbados for the laid-back vibe, the friendly local people, the great food, the wonderful climate and the beautiful beaches. I'm sure I'm not a member of the target demographic and I'm probably not a typical holidaymaker either.
We arrived at Nikki beach on a Thursday, just before lunch and we received a warm welcome from everyone we met. It was particularly nice to immediately bump into one of the staff from Mullins Bar who was now working at Nikki Beach.

---
It wasn't at all busy and we chose a double sunbed close to the (fairly small) pool and an appropriately 'cool' guy took our drinks order. Lisa opted for a Miami Beach Bellini and I 'cheaped out' and ordered a Banks beer. When I say I 'cheaped out' – I mean I opted for a beer which would usually cost between BDS$4 (at Oistins on a Friday evening) and BDS$7 (Little Bristol Bar). I discovered later that my beer cost BDS$16...
I couldn't help noticing the number of speakers around the pool and I couldn't help noticing their size. I also couldn't help noticing that resident DJ Jérome Barthélémy had taken up position in his pulpit overlooking the pool. More on that later.
We sat down to lunch in a very nice open and airy restaurant area – it is well designed and comfortable and the waiting staff were very friendly and attentive. One was a young lady from Paris and the other a young man from Tuscany. The lunch menu was perhaps a little limited and our Italian waiter explained that one or two of the dishes weren't available. No matter. I started with some sushi which made a nice change and then enjoyed a Nikki Beach 'famous' chicken satay which I have to say I enjoyed enormously. Thankfully Lisa skipped a starter as her rotisserie chicken was simply enormous. Enormous but in a good, well-presented and very tasty way. The quality of the food was certainly excellent.

---
Talking to the staff over lunch, it seemed that around 50% of the Nikki Beach team were locals but half (and probably most of the more senior staff) have been brought in from other Nikki Beach locations around the World. We asked how they were enjoying Barbados but were met with a less-than-enthusiastic response. St Barts is apparently really lovely and there's nothing quite like the Nikki Beach in Dubai and back home on the Med. Perhaps this was one of the things I found disappointing. I understand the need to launch with staff who are experienced, 'on message' and who can train new recruits appropriately and it is highly likely that, in time, the proportions will change. I hope so. For me, Barbados is largely about the people – their calm, friendliness and their pride in the 166 square miles that they call home.


---
Lunch was over and we headed back to the sunbed: a brief splash in the pool first and then a chance to open my book for an hour or two. By now, Jérome was starting to enjoy himself and delivering non-stop house music at top volume through those huge speakers. This is the point where I am about to show my age or start to sound like my father… for me it was a little too loud and I decided that next time I would choose a sunbed a little further away from the source of the sounds. As the bass thumped through my body, I joked with Lisa that the last time I had felt a similar sensation was when I had sonic blast treatment for kidney stones! As I say, I'm perhaps showing my age.


---
As we left towards the end of the afternoon we chatted to the staff who suggested we might like to return for dinner later in the week as there would be a much more mellow vibe with live music and they were aiming to deliver a true fine dining experience. We decided to return.
On Saturday we arrived after sunset and as the deluxe pool party was coming to an end. Our evening meal was, again, really good. A shared fritto misto was followed by duck breast and the catch of the day – which was barracuda. It was really good but quite pricey – as an example, my 'catch' at BDS$100 compares to Lone Star at BDS$84 and The Tides at BS$88.

---
The live music was excellent and set exactly the right tone – mellow sounds from Sade, Sixpence None The Richer. You know the kind of thing. Nikki Beach staff training clearly includes a directive to applaud live musicians at the end of each song and a little gentle acknowledgement would have been very appropriate. The over-the-top enthusiasm of one European waiter however proved pretty irritating to the extent that I felt a need to mention it when leaving.
So, I have decided that Nikki Beach isn't really my cup of tea and that's probably because I've reached an age where I prefer a cup of tea in the afternoon of course. As for Lisa, she also enjoys an afternoon cuppa but skilfully combines this with a love of Bellinis and loud music, so Nikki Beach will still be very much on her radar whenever we are on island. I expect I will be back to Nikki Beach before too long.
---