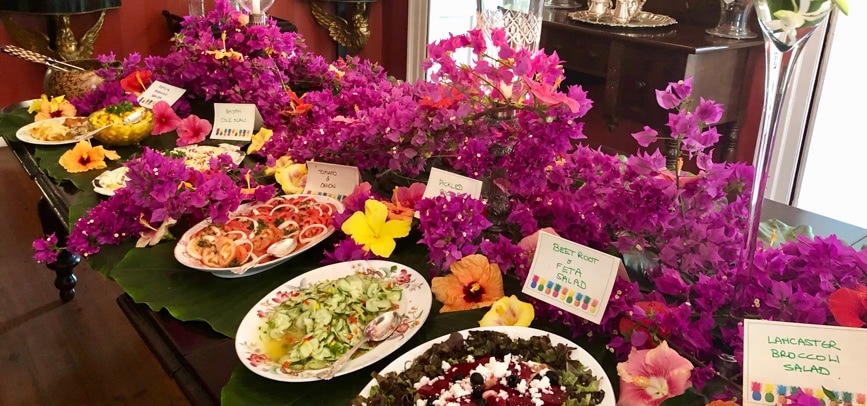 Sunday Lunch at Lancaster Great House, Barbados
Sundays in Barbados tend to be quiet - a little like they used to be in the UK before our obsession with 7-day-a-week shopping took hold. Heading to church on a Sunday remains important for a significant proportion of the population and enjoying a long, lazy Sunday lunch with family and friends is also a valued tradition across the island.
The choice of Sunday lunch venues is wide and there are many popular beachfront options which are rightly popular. Lunch at the Lone Star or The Cliff Beach Club is certainly special with wonderful views to accompany your roast beef or fresh catch of the day. But there is another Sunday lunch option which we thoroughly recommend for a completely different dining experience with wide selection of splendid food and an even larger helping of old Barbados on the side: Sunday lunch at Lancaster Great House.
Set on the ridge a couple of miles inland and above Alleynes Bay, north of Holetown, Lancaster Great House is a historic plantation house set in two acres of wonderful tropical gardens. Owned and run by John Chandler and his wife Rain, Lancaster Great House is filled with antiques and paintings which they have collected over the years - most of which carry a fascinating back story which John will explain with very little encouragement.

---
The Chandlers' flamboyant style is reflected in elaborate table dressings with stunning glassware and marvellous floral displays, particularly in the main dining room where the Planter's Buffet is laid out on a long antique table adorned with fresh bougainvillea and exotic flowers.
Arrive for lunch between 12:30pm and 1pm and take the time to enjoy a cocktail in the garden before being seated. A tasty soup is served to start the meal and a fish course whets the appetite for the full buffet which features a very wide range of traditional Bajan dishes from pepper pot and Caribbean chicken to flying fish and green banana curry - with a wide range of delicious side dishes.

---
The 5 course lunch (excluding drinks) will cost BBD $165 per head so there are arguably cheaper ways to feed yourself on a Sunday lunchtime but are there more enjoyable ways? I'm not sure. On our own last visit to Lancaster, we arrived just after midday but didn't leave until well after sunset. This is a place where the wine and the conversation flows freely and where you'll leave vowing to return and wondering why you've never visited before.
For booking information visit the Lancaster Great House Facebook page and if you can't make it to Lancaster but are visiting Limegrove in Holetown, please pop in to John Chandler's cafe where you are likely to meet John and enjoy a relaxed lunch. Our recent blog 'Lunch with John Chandler at Limegrove' tells you more.

---