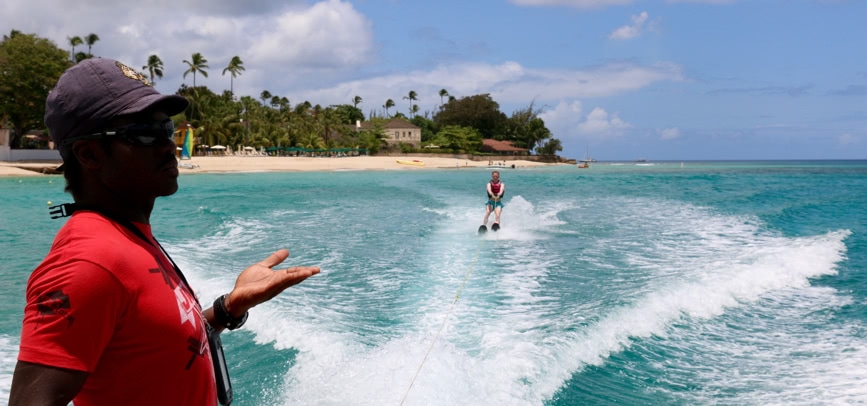 Water-Skiing with Tiger Tony - He's Great!
A permanent sight in the shallows of the wonderful sweep of Alleynes Bay, Tiger Tony's humble speedboat is a constant reminder to me that my younger brother, Will is the superior water-skier. I'm sure this was not always the case but he has probably spent more time with Tony in the past couple of years and practice makes (nearly) perfect...

---
We became friends with Tony on one of our first visits to the island and haven't turned to anyone else since; he is our go-to-guy for all things that involve a speedboat. As a teacher, he tends to gauge your 'level of ambition' and how serious you are about learning to water-ski. If it's your first time and you are unlikely to become a world champion anytime soon, he will slow it down and make sure everyone on board has a good time. But if Tony does sense a slightly competitive streak, he is not afraid to challenge you to becoming the best skier you can be. Either way, be prepared to get wet!

---
Whenever I'm up and skiing, it's a wonderful feeling: it doesn't get much better than soaking up the view of the sea and the shore, and for a split second, I kid myself that I've made it, I'm looking good; and that is when I fall, much to Will's amusement of course.
Tony is based on Alleynes beach next to Ju Ju's bar. Look out for his Aqua Tiger boat or ask anyone on the beach – he's well known to everyone. I'm looking forward to my next visit to Barbados already and I will be sure to head out with Tony for my regular session. Whether I will ever become more proficient than my brother remains to be seen.
---