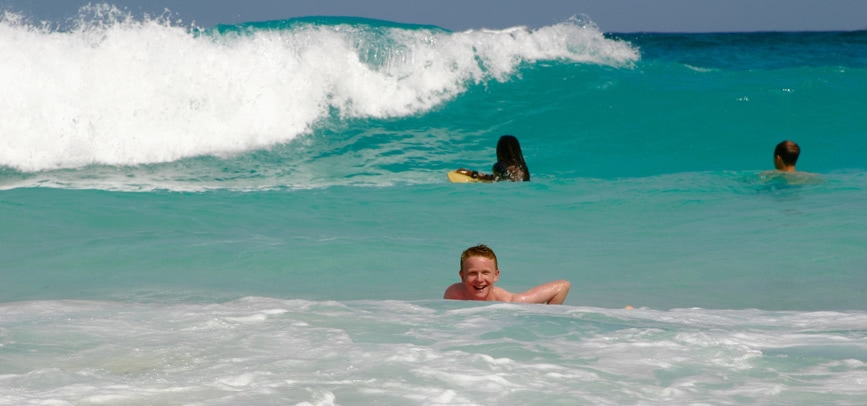 Surfing in Barbados: Best Beaches, Hidden Gems and Schools
Picture Barbados, and you imagine pristine beaches inviting you in to calm shallow waters. This is our experience on the western side, however for the slightly more adventurous, the island has something more to offer. Yes, you can even surf in Barbados: it's revered as a hidden gem in the surfing world in fact.
Surfing in Barbados: Beginners
For the beginner, the majority of the surf schools are located on the South Coast of Barbados: Zed's Surfing Adventures, Burkie's Surf School and Barbados Surf Trips are the main schools. They also offer board hire, although no need for the wetsuit here!
Barbados Surfing: Advanced
For the seasoned pro, the Atlantic facing East Coast should provide a nice challenge. Head to the Soup Bowl, near the town of Bathsheba to experience one of the top waves in the world.

---
What month is best to surf Barbados?

Now as any surfer will tell you, timing is everything! Not to worry however; Barbados enjoys surf for 360 days a year, although the best swells are seen in November through to June. The water temperature around this time is about 27ºC.
Enjoy Water Sports? Read more:

Where to Stay in Barbados for Surfing?
For those going for the south coast, we recommend Hectors House Villa, with the perfect ocean view from the infinite pool. And while we don't offer properties on the east coast, you can find excellent villa options less than 30 minutes away, like Cocomaya in Apes Hill Country Club, or any villa in Holetown.
As Mark and Lisa would tell you, this is not particularly their cup of tea, however I am sure they enjoyed watching me attempt (and fail) to master the waves on the Crane Beach. It also gave them an excuse to return for a day to the East coast, in what seems a world away from the tranquil waters of the Caribbean side.
---