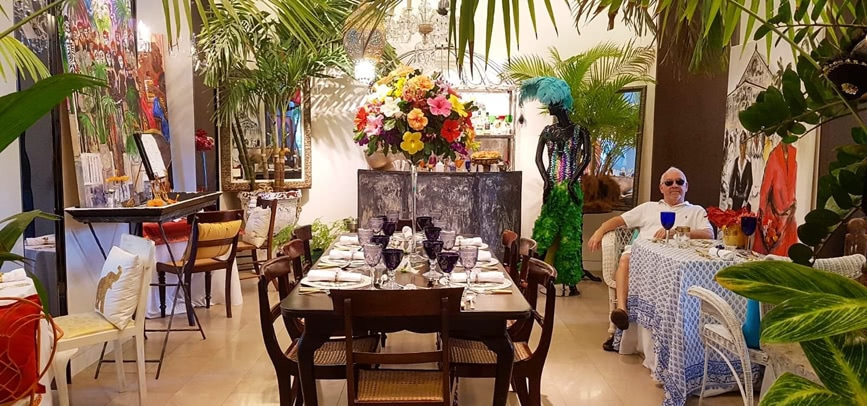 Lunch with John Chandler at Limegrove
Limegrove shopping centre in Holetown may not be an obvious first choice for lunch when you could be overlooking the sea at one of the island's many beachfront restaurants and bars but lunch at John Chandler's Cafe (and Antiques) is a whole new experience and it is a particular favourite with locals rather than tourists.
The cafe is situated in the courtyard by the West Bar in Limegrove and doubles up as an antiques shop with an eclectic collection of china, glassware, furniture and local curios. The decor is flamboyant and the welcome warm with a pianist setting the tone for a relaxed but very convivial lunch. The menu is simple but a little different from some of the standard fare on offer elsewhere. I thoroughly enjoyed a steak and kidney pie with salad and sweet potato - light and very tasty.

---
John is very much a local personality and is a well-known raconteur. His autobiography, Hotel Barbados - My Life of Discretion at the Ocean View (with foreword by Sir Cliff), recalls his days as manager of a hotel which was a regular stop-off point for royalty and stars who were heading to the island of Mustique. John and his wife, Rain, own the Lancaster Great House which is famous for its Sunday Planters' Buffet and for Mr Chandler's Friday Night Dinner Parties where John recounts tales which his lawyer (probably) prevented him from including in his book.

---
So, on your next visit to Limegrove, please do drop in, take a look around and stop for a chat with John. It's not your usual sandy feet and swimwear lunch experience but it will make a change, you will eat well and you might even learn something you didn't already know about some of the famous characters who have visited Barbados over the years.

---