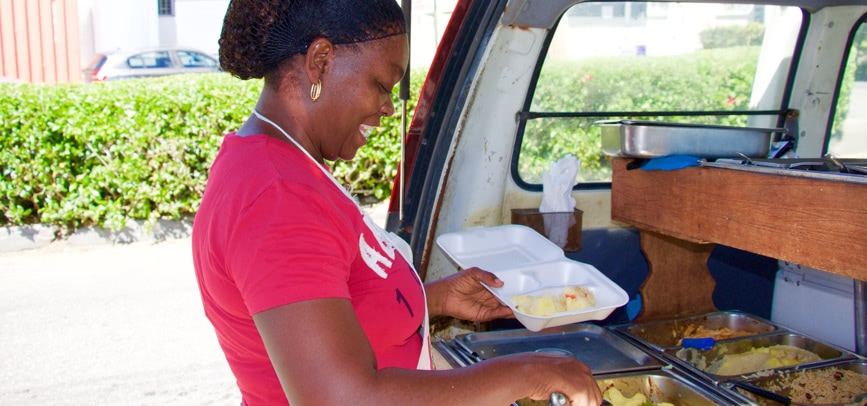 Se-Se is our local food van heroine
Barbados is a foodie's paradise with many fine-dining restaurants dotted up and down the coast. But true Bajan cuisine has deep roots and is more likely to be found at local rum shops or out on the street. Here, hundreds of makeshift serveries regularly appear each evening and food vans take up position at the roadside each day, ready for the lunchtime queue of locals – and occasional tourists.
Just like any other visitor to Barbados we just love the variety of food on offer across the island. We love to eat out at the best restaurants but we also love to shop at the local markets and prepare our own meals from fresh local produce. We love to grab a quick lunchtime snack at a beach bar but we also appreciate the convenience and value of food served from the back of a food van tucked around the corner near our apartment on Mullins Bay.


---
Se-Se is our local food van heroine – parked next to the Rubis garage at the northern end of Mullins beach, she is available each lunchtime with a wide variety of local fare and an even wider smile. Freshly prepared dishes include turkey legs, grilled chicken and fresh fish, served with rice and peas, macaroni pie, sweet potato pie or scalloped potatoes. There will always be a little salad and some coleslaw on the side – not too much as this is filling and tasty rather than light and healthy fare.

So, if you are spending the day on the beach at Mullins or if you are staying at a villa nearby, please do look out for Se-Se and try some of her food one lunchtime. She will be very pleased to see you, will point you in the direction of her local specialities and, most importantly, you probably won't need to eat again for several days.
---