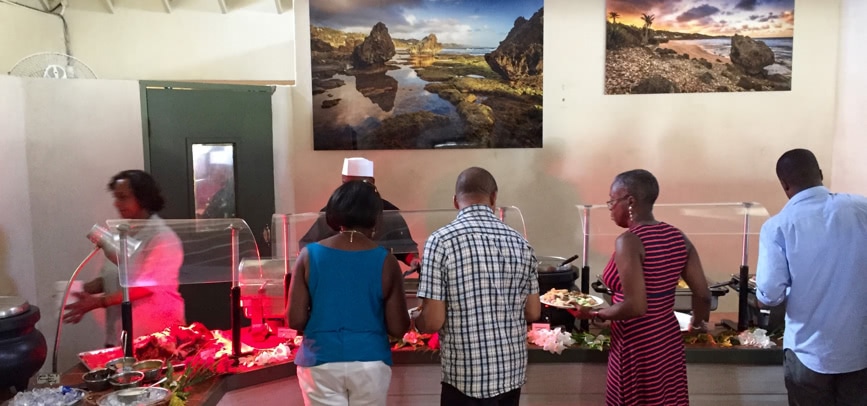 Sunday Lunch Barbados Style – Our Top 5 Buffet Lunch Recommendations
The links to its colonial past are evident throughout Barbados where Sundays remain special for the largely Anglican community. Despite the warm climate, suits and ties and best dresses are worn for church on a Sunday morning and the other fine old English tradition of Sunday Lunch with family and friends also remains popular.
Forget the image of a table by a roaring fire at the local pub however. Sunday lunch Bajan style usually takes the form of a marvellous buffet with a wide choice of local dishes, all eaten al fresco and often accompanied by live steel pan music. Here is our selection of some of the best places to enjoy a Sunday lunch with a difference on your Barbados holiday:

---
1. Brown Sugar, Bridgetown, Barbados (on the South coast)
Situated near the historic Garrison Savannah horse racing venue in Bridgetown, Brown Sugar is a family owned restaurant which likes to be known as 'the home of Bajan cuisine'. The restaurant is housed in an old Barbadian home and the all-you-can-eat planter's buffet is accompanied by live steel pan music. The menu is very comprehensive and features traditional pepperpot, seafood creole and baked cinnamon plantain as well as favourite deserts: Bajan bread pudding, coconut bread and rum balls. Prices are around BDS$69 per person with reductions for children under 10.
2. The Atlantis Hotel, St Joseph, Barbados (on the East coast)
Take a fascinating drive out to the Atlantic-facing East coast of Barbados where life is much quieter and where the scenery is much more natural and wild. Here, the beaches are virtually deserted and the waves are perfect for surfers of all abilities. The Atlantis Hotel, situated at Tent Bay, was one of the first hotels on the East coast and its Sunday buffet lunch has become famous across the island. Eat indoors or out and take in the wonderful views. When we last visited there was also live steel pan music helping to create a very relaxed atmosphere. As you would expect, the buffet is very comprehensive with a wide range of local specialities to choose from. Prices are around BDS$90 per person. 
3. The Beach House, Holetown, St James, Barbados (on the West coast)
Situated in the centre of Holetown, The Beach House can sometimes be overlooked but always offers a great combination of excellent food, attentive service and a relaxed and relatively informal atmosphere. The Sunday buffet lunch is one of the best with a wide choice of local dishes from spicy Bajan fishcakes, cheesy macaroni pie, flying fish and deliciously spiced pork leg – all served with a super sea view. Prices are around BDS$92 per person.

---
4. L'Azure at The Crane, St Philip, Barbados (on the South East coast)
The Crane beach has received many accolades including 'one of the 10 best beaches in the world' and 'one of the top 50 places to go before you die'. Whether this is justified or not, the Crane beach is certainly special and offers something rather different on the island with pink, powder soft sand and more active surf than you usually find on the West coast. L'Azure restaurant overlooks the beach from a high vantage point (the beach is accessible below via glass lift). Here you can enjoy a Sunday buffet lunch which includes the island's national dish of cou-cou and flying fish, beef stew, rice and peas or roast beef from the 'carving station'. Prices are around BDS$80 per person. 
5. The Colony Club, Porters, St James, Barbados (on the West coast)
The Colony Club is one of the island's better West coast hotels and The Laguna restaurant has just re-started its Sunday buffet lunches. Prices here are a little higher than elsewhere but the food on offer is also rather more varied with green mussels, crab claws and grilled asparagus fighting for your attention along with prime rib of beef (with Yorkshire pudding!) and roast leg of pork. Prices are around BDS$130 per person.
---